Hi Guys! Maren here.
So my last post, I know it was a day ago, talked all about how I'm going to start fresh this new year. Picking Up The Pieces! is the theme.
I'm picking up a new hobby and it's in the form of cooking. Yesterday I spent most of my evening playing with a very hyper Donner while watching Top Chef University videos.
This post is going to be a little dry… just have a ton of info go get on the blog. 1, for you so you can follow along if you want to. And 2, for me. So when I look back after my year subscription to Top Chef University is expired I can find some of this (I found) really useful information.
Before we talk about all the Basics I learned here's a little video I worked up to fill you in on my Top Chef University packet.
Culinary Course, Basics
I watched all these videos on my own because I don't think they need individual posts. After all, we need to finish sometime this year.
These videos included: basic organization in the kitchen, pantry organization, fridge & freezer organization, intro to knives, cookware, kitchen tools, and small appliances.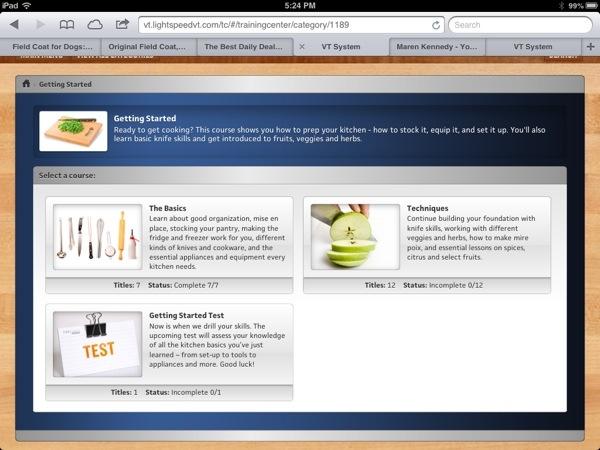 Basic Organization
I learned what Mise en Place is… it's having organization while cooking. Ultimately it's important to have a designated food prep station, lay out all your ingredients before starting to "cook", and keep everything clean.
Pantry Organization
I was really excited for this part because I never know exactly what the 'basic' stuff you should always have on hand is. This is what Karla, from Top Chef: New York says:
kosher salt
black pepper
vinegar (your preference of type) and olive oil
cocoa powder
sugar (your preference brown, white, etc)
flour
baking powder
nuts (the kind you like)
canned tuna
canned tomato
olives
dry pasta
chicken broth, because not everyone (meaning me) has time to make chicken broth from scratch
rice
white beans
soy sauce
honey, or alternative sweetener like agave
ketchup
Karla says you can add some of your own necessities too… these are just the basic ones she recommends.
Fridge and Freezer Organization
I was also excited for this part. I think having specific things always on hand makes cooking on the fly really really easy.
Fridge
milk
butter
cheese
eggs
fresh fruits and veggies
fresh meats, deli and whole
sausages
jams, your choice
pickles
yeast for baking
yogurt
heavy whipping cream
buttermilk
sour cream
Again, these are all just the basics. Some people will want other things. Karla likes to have buttermilk because she loves to make southern biscuits.
Ohh… and it's very important to keep the fridge at 40 degrees. It's the best cool temp.
Freezer
frozen chicken breasts
ground beef steaks
frozen veggies like peas and corn
left over stocks, in ice cube trays
vanilla ice cream

Always remember to thaw your frozen meats under refrigeration or cool running water to ensure that the frozen meat stays at a cool temperature.
Knives!!!
I never know what knife to use for what thing. And I just don't know what knives to have on hand for basic cooking. Karla talked about these:
Chefs Knife
paring knife
santoku (possibly spelt another way) knife, this is the one with scallops on the blade
bread knife, serrated
boning knife, this one is thicker than the others
filleting knife, this one is flexible
These are teh basics that Karla says to have for cooking. But if you have to choose, Karla says to invest in a Chefs Knife, a Paring Knife and a Bread Knife.

Cookware
Ohh my goodness. I was so happy Karla talked about this subject. I get so overwhelmed when I go to Williams Sonoma or Sur La Table because they have so many different pots and pans. Which ones do I actually need and which ones are the doughnut pans of the bunch??? These are the ones Karla recommends:
Having a Large Saute pan
Having sauce pans in 3 sizes
every cook must have a large stock pot
she likes to have a non-stick saute pan but it's not required
a turkey roaster with a rack that fits
a Dutch Oven!!!!!!!!!
a cast iron pan
a wok
a cast iron grill pan that has a grill side and a flat side
Equipment and appliances
Okay I know we all have a boat load of small kitchen appliances. The Margaritaville Margarita maker that's basically just a blender is a necessity in my kitchen. But these are the most versatile that will ensure you have the right equipment to make the most things…
an oven or better a convection oven
a microwave!
food processor, santa brought me one for christmas!!!!!!!
a high quality blender
an immersion blender
and a stand mixer
Conclusion
So I was really happy to finally have some guidance on all these things. It's really hard for me to organize my kitchen ingredients and to figure out what fun cooking toys are a necessity vs which ones are excessive. Karla kinda fixed all my questions.
Tonight I'm planning to get through most of the Technical courses. I'll be including that throughout the year as I use the techniques to complete the recipes.
FYI… Donner is a very high maintenance puppy these days so most of my posts will be coming after hours. Sorry… but he likes to eat my ipad.