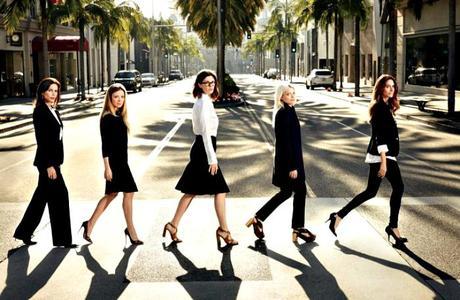 Celebrity style is big business. I think we all know that by now. Especially us bloggers. How many blogs do you browse through to see who was wearing what to the Oscars and fronting whose campaign? I know I browse through countless blogs each day, with Citizen of Fashion and WhoWhatWear being my two go-to blogs for fabulous fashion. Celebrities want to look fabulous and designers want living billboards for their creations. That's a win-win. And in between all that are celebrity stylists. She (or he) is the one who makes the deals happen. In the above picture top celebrity stylists (from left to right) Cristina Ehrlich, Erin Walsh, Leslie Fremar, Kate Young, and Elizabeth Stewart, are crossing Rodeo Drive in Beverly Hills.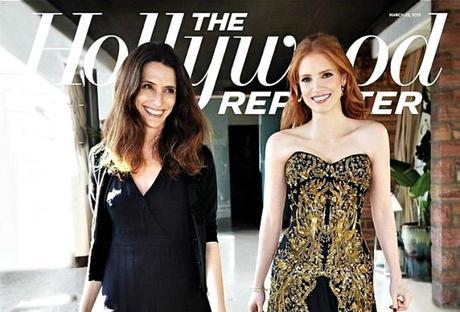 Elizabeth Stewart and one of her clients Jessica Chastain.
The Hollywood Reporter has published for a few years now an annual celebrity stylists special edition called Hollywood's 25 Most Powerful Stylists. The stylist's stock goes up and down every year according to who is in and who is out and who they have as clients (celebrity stylists work freelance so stars are not tied down to a "stylist contract"). This year the stylist on top was Elizabeth Stewart who dresses Cate Blanchett, Julia Roberts and Sandra Bullock and and dressed them in total of 102 red carpet looks. Cate's Golden Globes dress was mentioned as the "dress of the year".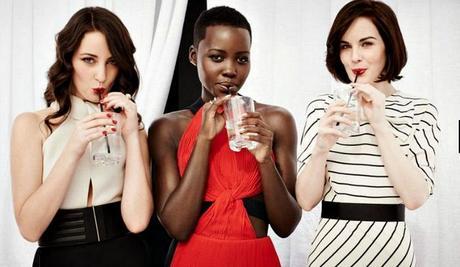 Micaela Erlanger (on the right) with Lupita Nyong'o and Michelle Dockery.
The celebrity stylist making most waves this year is the lists's number 3 Micaela Erlanger whose first major client was Downton Abbey's Lady Mary (Michelle Dockery) and who single handedly put Lupita Nyong'o on the red carpet map. A year ago most of us did not know who Lupita was. Now she is one of the most photographed women in the world with impeccable style and a Miu Miu ad campaign to add to her resume. And I remember uttering when I saw her in that stunning Ralph Lauren gown at the Golden Globes, "Who is her stylist?" She made such a huge and immediate impact.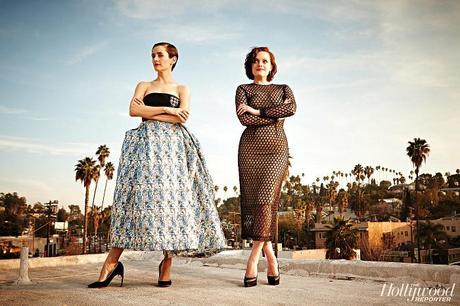 Stylist Karla Welch and client Elizabeth Moss.
The pinnacle for every stylist is the Oscar gown. I recently read an excellent article in Vanity Fair magazine what goes on behind the scenes in Celebville before the big night. The scram for dresses start in January when designers start sending in sketches of dresses to the stylists. Most A-listers will not wear something "off the rack". And there are not scores of dresses either. Most have a dress and a back-up dress and that's it. And once you've work that dream gown to the Oscars, you don't get to keep it, it is returned to the designer. Except if you win. That's when you get the Oscar and to keep the priceless dress.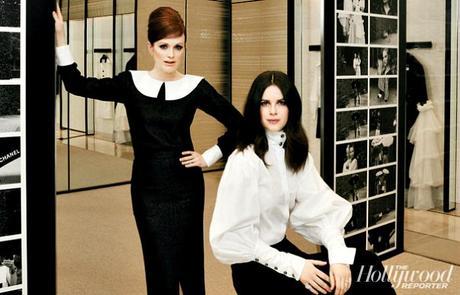 Leslie Fremar and client Julianne Moore.
So, who decides who gets which dresses? Well, basically, the bigger the star you are, the more power you have. I read in the article there have been instances where an A-Lister says to a designer, if you dress "so and so", I will not be wearing your dresses. And as the designers want the A-List coverage and prestige, they go along with her wishes. What about up and coming actresses? That depends on the designer. They may be interested in nurturing new talent, but most often than not, celebrity stylists "beg" for dresses for them, and in the end "something" will or will not arrive from Europe (where most of the huge fashion houses are headquartered). But the ones designers do now want to work with are reality TV stars. If they want couture, they have to pay for it.
All images: The Hollywood Reporter and Vanity Fair.