I tried to be super serious about my Top Latina Blogger retreat post, but it wasn't working out. You know me, I kind of give you the fun recaps and throw in my take on things.
Truth is, it all happened rather quickly and I didn't even have time to process it all.
I had applied for the opportunity to attend a retreat for the most influential Latina bloggers in the US only a few weeks ago. Then at the end of last week I received the news that I was ONE of 70 selected to attend the first ever Top Latina Blogger retreat in Washington, D.C organized by Latina Bloggers Connect and Latinos in Social Media (LATISM).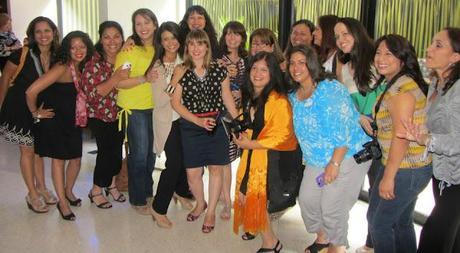 And yes, I did worry about what I was going to wear. After all, dress to impress, right?!
So why the White House? There are many issues affecting Hispanic Americans in the US such as education and health and the Office of Public Engagement knows that we as women and mom bloggers are the voice of a community and have the power to create awareness and make a difference.
When I heard that I thought, "Ummmm, I wonder if they realize I blog about fashion and personal style?" But I learned it's about what sets YOU apart and how you communicate and influence your audience.
My voice, my story
I care very much about my personal appearance, but also helping others feel good about themselves, especially moms. I know what it's like to feel terrible about oneself and live with self hate. I was lucky to have my mamá help and guide me to learn to love and accept myself just as I am.
I like to show that being interested in fashion and style does NOT make you shallow or that it's only for the young and thin. We should all look the best we can look no matter what our size, age or budget. Having always struggled with my weight, been made fun of, been on endless diets and felt humiliated in school, I know how many women feel.
Personal style and self esteem are an important part of life - especially because if we don't love and accept ourselves it is very difficult for others to do so. And as moms, we need to set good examples for our children.
Am I right or am I RIGHT?!
So, what did I end up wearing? I took several options because I didn't have the chance to really try anything on at home.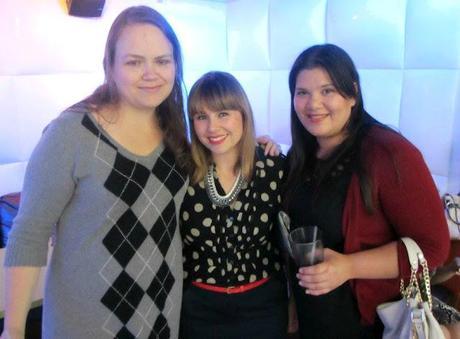 Mariana Pérez of The Domestic Buzz (and fellow Medifast blogger) and 
Maybelline Valenti of Naturlamente Mamá (and my roomie!)
On the first evening, we had a speed networking event and I wore my blue MNG skirt, red Primark belt, Marks & Spencer pink and purple low heeled pumps, a black and tan polka dot blouse I found in my mom's closet (imagine that!) and my Stella & Dot Femme Fatale necklace - nothing new.
The day of the briefing, I ended up with a blue and white dress from belk, white and black polka dot heels from Aerosoles, an old blazer I found in a suitcase in my attic from Loft circa 2004 and my Femme Fatale Necklace.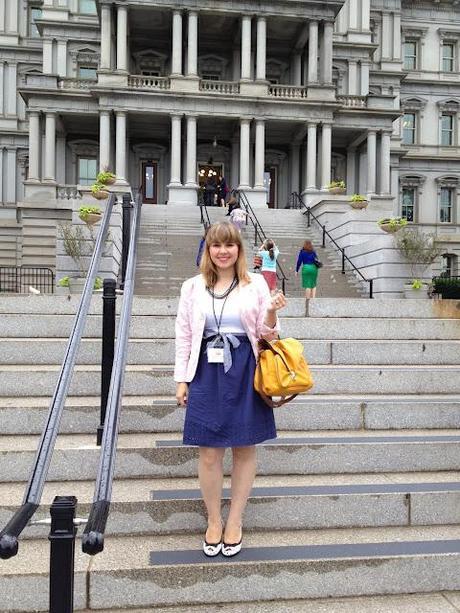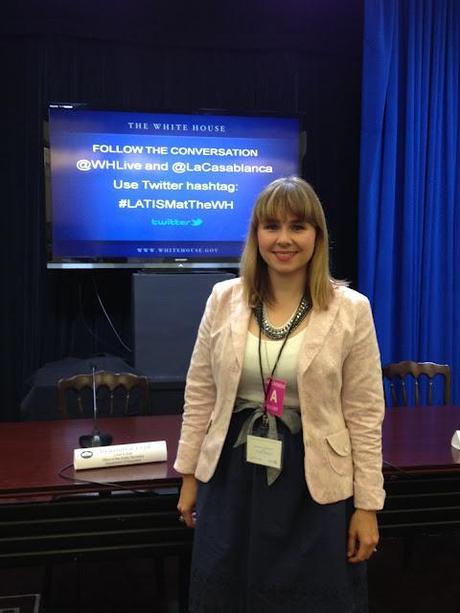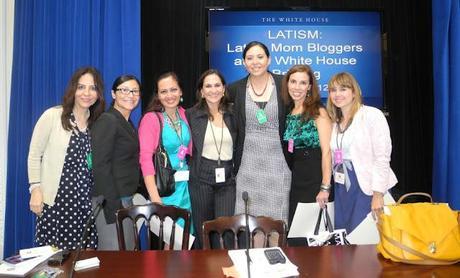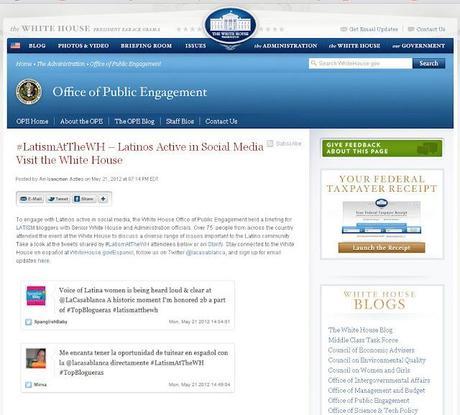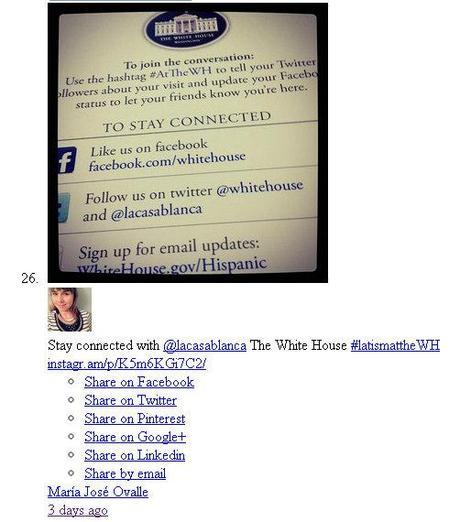 We were allowed to tweet and take pictures, however we did not get to meet the First Lady. Truth be told, we were just happy to be there. How could we not be?!
A major highlight was having one of my tweets make it onto The White House's Office of Public Engagement blog - how cooooool is that?
There are more images of the event and lots more stylish bloguera styles on my Facebook page!
So what do you think, was my look Presidential enough?