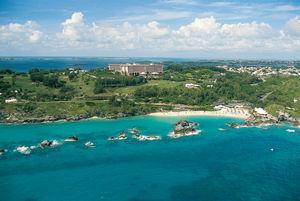 The island of Bermuda provides lovely options for visitors from around the world to enjoy their vacation in a lovely small island.  One of the lovely
Bermuda beach resort
is the Fairmont Southampton Hotel located in Southhampton. This is one of the excellent four star locations on the island. It has been voted one of the top resorts in its class in previous years. The territory itself is located west of the North Carolina and it is known as the "Jewel of the Atlantic." Although the island is located close the Caribbean it is not considered a Caribbean island. Its temperate during the winter months of the year is usually a little cooler than those in the Caribbean. However, the island has some of the best vacation resorts and hotels for the different types of vacation. Moreover, some of the resorts offer are located on lovely pink sandy beaches that you will absolutely love.  
This Bermuda beach resort gives you a great tropical setting for you to enjoy your vacation experience. Fairmont Southampton Hotel has lovely palm trees on its location that will allow you to have a sense of paradise. This has allowed the resort to create a luxury vacation experience that is perfect for any occasion. Moreover, this resort gives access to many of the island's top attractions. Some of the include Fairmont Southhampton Golf Club, Church Bay, Gibb's Hill Lighthouse and Horseshoe Bay. There is also a private beach at the location for visitors who enjoy seclusion on a private beach.  Moreover, there is no communication barrier between you and some staff members because they are multilingual. The resort also has an excellent business meeting, conference and Banquet  facilities.
There are no shortage of activities to participate in at the resort. The resort has great massage and beauty treatment facility. In addition, there is spa and massage facility so you know your body will really be pampered at the resort. The usual water sports activities that many Bermuda beach resort offers are at the location as well. Two of the main water sport activities you can engage in while staying at the resort include scuba diving and jet-skiing.  Other activities that can be done at the resort include golf, tennis, excursions, and horseback riding to name a few. There is also a lovely fitness facility for those who want to work out. The resort has an excellent program for its family visitors.  Additionally, there is an exciting kids program that opens daily which children will absolutely love for the different aspects of entertainment it provides.  The Fairmont Southampton Hotel also offers excellent wedding and honeymoon options as well.
Although Bermuda is the only small island in this part of the Atlantic Ocean that is not considered a Caribbean island it offers some lovely vacation resorts and hotels.  The Fairmont Southampton Hotel is one of the top Bermuda beach resort for luxury, family, wedding, and
romantic vacations
. It provide an excellent environment to enjoy lush tropical vegetation and excellent beach and watersports activities.