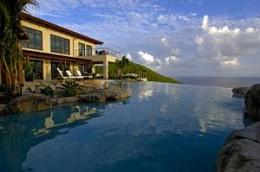 Caribbean small island resorts are lovely place to spend your vacation. However, there are some destinations that are really popular and may not the ideal for visitors who just what to relax in a quiet tropical secluded environment. However, there are countries offer lovely private island vacation setting and are lovely of luxury romantic vacation. Some of the countries that provide these types of options are St. Vincent and the Grenadines, St. Lucia, St. Kitts and Nevis, Grenada, Dominica and the British Virgin islands. Dominica, St. Vincent and St. Lucia are great Eco-tourism destination while the Islands of the Grenadines and British Virgin Islands are excellent sailing and private island destinations.
Small Island Getaway Dominica
The Dominica is the top island in the Caribbean for whale watching expedition. Dominica offer visitors a romantic vacation in a cool tropical environment. The Calibishe Lodge is one of the accommodations in Dominica that provides a secluded vacation option of visitors. This resort provides a friendly atmosphere in a secluded island setting.
Grenada and The Grenadines
Grenada is a county renown for its spices. However, when it comes to natural environment there may not be an island that takes it as seriously as the Grenada. There is no building on the island taller that a palm tree. Grenada is also associated with the Grenadines; own the two small islands of Petit Martinique and Carriacou. One of the island top resorts with a secluded vacation atmosphere is Bel Air Plantation Villa Hotel. This is a lovely getaway for romantic couples.
Secluded Islands Getaway Grenadines
Grenadines islands offer some exceptional small island vacation getaways. Some of the top resorts in the Grenadines include Palm Island Resort, Petit St. Vincent and Firefly Mustique. These three small islands are all private with excellent accommodation located on each island. These are great location for romantic vacation, island hopping and water sports. Each year these locations provide beautiful opportunity to enjoy lovely jazz music in the form of the Mustique Blues and Jazz in January.
Small Vacation Getaways Of St. Vincent, St. Lucia and British Virgin Islands
The island of St. Vincent has two excellent options of secluded vacations. The Young Island Resort and Petit Byahaut Hotels are two private island and are wonderful places for secluded romantic vacation. In the island of St. Kitts and Nevis the Montpelier Plantation Inn is a location that provides excellent seclusion for holiday seekers.
The British Virgin Islands (BVI) offers some excellent small island getaways for romantic couples and honeymoons. The different BVI resorts are excellent for romantic vacations. One of the top locations for seclusion is the Peters Island Resort. This is one of the location that really pampers' its visitors with a staff complement more than that of visitors. The resort offers an excellent luxury holiday option for visitors who need seclusion. It is great for private honeymoon and romantic vacation.
The island of St. Luca is another island for seclusion. There are some excellent accommodations in this country as well. However, one of the top destinations for seclusion is Jalousie Plantation Hotel in Soufriere. This island is one of the top small island getaways in the Caribbean.
These islands offer some small getaway vacation. This is mainly because these islands are very small when compared to the other Caribbean islands. The territories of the Virgin Islands are the Grenadines are excellent private islands destination. They offer great seclusion and relaxation. Dominica and St. Lucia offers wonderful Eco-tourism attractions. These are great places for visitors who loves tropical environment. There are times when you just crave a vacation environment with little or no disturbing from other guest. These islands are the perfect hideaway for visitors who treasure seclusion. Some of these islands provide a little challenge to travel to but they are equally rewarding especially for romantic couples. Some of the really small getaway vacation resorts Palm Island Resort and Petit St. Vincent in the Grenadines, Peters Islands Resort and Spa and Little Dix Bay A Rosewood Resort in the British Virgin Island and JUmby Bay in Antigua. These are some of the top small vacation getaway resorts in the Caribbean.
Posted 4 weeks ago by 
tim