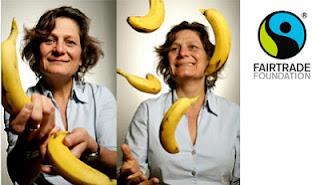 "Everyone laughed at us when we started: they thought Fairtrade was for a few yoghurt-eating vicars. No one thought for a moment the public would be willing to pay extra, or that companies would pay more so that the world's poorest farmers get a decent price for their products. But they do and they have" said top banana Harriet Lamb.

Fairtrade is now mainstream and going global. In the
UK
some £1.3bn worth of goods were sold last year bearing the now-familiar blue-and-green symbol of a man holding up the world.
The turning point for Ms Lamb came when working as a banana co-ordinator for the World Development Movement. She visited farmers known as the "burnt ones" on plantations in Costa Rica – workers who suffered reproductive problems due to exposure to the chemical DBCP that they had sprayed on the bananas to stop parasites. "I met Maria, the wife of one of the workers who had been affected after spraying. She showed me pictures of their dead baby. It looked like ET, had no eyelids, was greenish in color and had a huge head. I knew from then on there was a better way," she says, clearly still moved by the memory, and has been campaigning like fury ever since.

So how about fair-trade sports apparel? Anyone seen the Fairtrade logo on a sports shirt?
Our TV screens are filled with top banana athletes pursuing their golfed Olympic dreams. But are any of them running and jumping in apparel made in a fair and ethical way? Are the necessary health and safety standards for textile workers implemented in major sport brands sub-contracted Asian factories, to guard against the hazardous heavy metals and toxic chemicals used to manufacture the latest hi-tech sportswear?

Will any of the top banana golfers playing at this weeks last major of the year; The PGA Championship at the beautiful sounding Ocean course at Kiawah Island be wearing a colourful Fairtrade outfit?
---------------------------------------------------------