Affiliate Marketing is and remains one of the most easy and stress-free ways to make money online. Finding the right affiliate products to promote can be kind of tricky at times, the reason being that there are too many of them on the market. The big advantage however is that, it's risk free, free to join and you can actually make good money out of it.
Come to think of it, you have nothing to lose by trying to promote X or Y products, you do not have any stock or invoice to deal with. Everything is handled by the main company and you just act in the background by helping the company sell the products. You can use social media sites as an example  to promote the stuff you sell, if you own a website or a blog it makes things even easier. The biggest problem here is to find that good product that, your visitors will love to pieces and buy.
Most affiliates programs are free to join and only take couple of minutes to sign-up. Once you've registered, you'll received a unique affiliate link through which all sales will be tracked and you'll then receive your commissions. Commissions rates vary from one company to the other, so make sure you check that as well.
How Do You Decide Which Products You Want To Promote
My best advice for anyone getting into affiliate marketing: if you want to promote products on your website/blog, make sure you look for products in your niche. If you do not own a website/blog and want to use other means available like social media sites, it really doesn't matter which procducts you decide to promote, but make sure you find good products.
How Do you find hot products that sell quick?
There are many methods you can use to find hot products, the ones that sell fast. The one method I personally use is Ebay Pulse, ebay being the biggest marketplace in the world, it's easy to find what's hot. I sell a lot on ebay too, so most times I always check before embarking on a venture. If you wanna sell hard goods products and you are not too sure which one is popular, here how to check it:
Simply google ebay pulse popular products and ebay will come up with a list of products in different categories. If you are looking for a specific products, just type it in the ebay search bar.
Let say you wanna sell shoes, you will then click in the clothing, shoes & accessories category, choose shoes and ebay pulse will then show you the most popular items.
Now all you have to do is look for companies in the niche that offer affiliate programs and join them.
NB: Affiliates, Affiliate Program, Partners Program, Associate Program, all mean the same thing.
Another way you can use to promote affiliate products is Squidoo. On squidoo you can create as many many sites called lenses as you like and promote amazon products. I haven't personally used it, but I have a friend who earns doing this. To learn more about Squidoo and how to create your first lenses, Check This Site.
My Top 10 Affiliate Programs
All affiliate programs are not equal, below is in no order a break down of my top affiliate programs:
The Super Affiliate Handbook
This is the true story of Ms Rosalind Gardner, a lady with no previous experience but who made a staggering $436,797 in one year selling affiliate products. I bought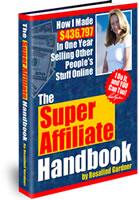 this book years ago and can tell hands down that, this is one of favourites on the subject. This book is very clear and well laid out, it shows you with pictures all the how tos questions that you might be going on in your mind.
Rosalind Gardner has created a step-by-step guide from when you set-up your website to how to make money out of it. She even goes further to show the hidden tricks of the affiliate world. This is Must Read for every serious online marketer. The Super Affiliate Handbook definetly has potential and delivers.