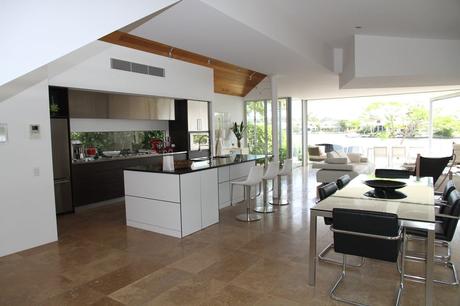 The kitchen trends have changed in the last few decades or so. Gone are the days when kitchen was only the place to cook meals and to clean dishes later on. The approach and mindset has changed across the globe of how to incorporate different kitchen designs to improve the overall appeal and functionality as well.
The changing social dynamics and advances in technology have led to the rise of trendy and modern kitchens. Some people prefer an open concept for the kitchen while others choose the contemporary design of the kitchen. Whatever the choice or the need, you can never be short of design ideas for the kitchen.
Given below is the checklist of the top 8 Kitchen Designs in 2017.
1. Quartz is Still Popular:
The quartz design still reigns supreme for many of the high-end kitchen countertops. The reason begin that quartz is durable, requires less maintenance, the material is hardy and is resistant towards microbial growth. On the other side, granite is expensive to keep which is not affordable by many people.
Over the years, different colors and finishes got developed for quartz countertops. You can choose from a range of exquisite colors and even get realistic stone patterns. Nowadays, quartz countertops come with elaborate swirls having large veining that resembles other textures like natural stone. People tend to go for more neutral and softer colors. They include taupe, grey, white or creamy finishes.
2. Use of Smart Technology:
Apart from modern appliances and fancy gadgets, technology has transformed the look of the kitchen. Now you will get to see smart technology integrated in every function and the appliance, from the lighting to fridge and the faucets. All such technological integration constitutes the smart kitchen that is slowly becoming the preference of each and every homeowner provided they have the adequate budget.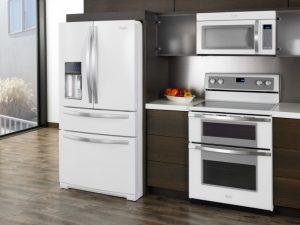 Source of Image:
Pinterest

Nowadays, smart kitchens are built smartly from the base. The older kitchens are tweaked with smart gadgets, sensors and other related devices to give them the same smart outlook. The sensors get fitted into kitchen faucets which sense the presence of hands beneath and lit up automatically.
You can place a smart fridge that alerts you when the grocery items are running low. Or there can be a coffee maker that makes your coffee ready when you wake up. Since people have begun more diet cautious, more and more prefer using air fryers to cook food. An air fryer in innovative device that cooks food without added oil through circulation of super-heated air that helps to reduce fat in the fried foods.
Whereas for the lighting system, you can now control the different lights through a tablet or your Smartphone.
3. Contemporary Materials, Designs and Textures:
The traditional kitchen designs like contemporary still exist but have got added touch to them. The homeowners are using edgier contemporary designs and alternative materials for the kitchens.
The usual ceramic material has been replaced by stone and concrete. Sliding and folding doors are built to be operated with only a touch of the button through Smartphone. In fact, the innovative designs have transformed the cabinetry where you can use folding and sliding cabinet doors as well.
The kitchen islands and countertops have got much curved for a unique focal point. Such design and look results in softening of the lines within the space.
4. Cabinet Colors:
Majority of the people still choose white for the kitchen cabinet. White shows elegance and a cleaner look that is ideal for a space that usually gets cluttered. White will remain the popular kitchen design for 2017 and for many more years for sure.
Talk about grey color, it is also being used by many as it shows sheer beauty and chic class. Grey is the color to pick if you want your kitchen to get more luxurious. The grey cabinets can get complimented well with plenty of natural light. On the other hand, the new color that is making its way into the kitchen is black.
Black is the only color that exuberates subtle dramatic essence for the kitchen and results in rich luxurious atmosphere when used for cabinets. You just need to be careful of not overpowering the room that would result in a dark interior. Black kitchen cabinets are getting bolder that is being preferred by many people in 2017.
5. Use of Storage-Effective Cabinetry:
The usual annoyance that many homeowners face with kitchen is the unwanted wasted of space. The manner in which the drawers and shelves are built result in a lot of wasted space. Now, the trend is changing and homeowners are going for minimalistic touch by using compact storage cabinets and drawers.
Talk about drawers, you will find dividers for utensils and cutlery, roll-out trays for pots and pans as well as pull-outs for spices. They make it simpler to store away drinks, small appliances and foods. Such storage solutions make cooking fun and effortless indeed.
6. Hardwood Flooring and Ceramic Tile has become Popular:
The hardwood flooring is not new, yet it still is the preference for many homeowners. Another good option being used ceramic flooring as it comes in various styles, sizes and designs.
The ceramic tiles retain the hardwood look and are easy to maintain as well. They can be designed to look to like otter materials such a natural stone. Talk about size, you can choose wide plank tiles that can get laid easily on the floor. Or else you can select custom cut tiles to create a unique kitchen design.
7. New Styles and Preferences for Appliances:
The black stainless-steel appliances have become the latest trend this year. They have come with the latest finish that adds to their elegance and style. These appliances get sold in suites where you have got plenty of choices. Suppose if a refrigerator is in red, then the vintage style range will be blue in color.
Another interesting fact is that the necessary commercial ranges seem to be fading away now. You will get to see cook-tops with separate double wall ovens in many kitchens that has added to greater aesthetics as well. If you look at the chimney styles, then homeowners are going for ceiling mounted range hoods over big style range hoods over the range. They appear sleeker and occupy less space too.
Gradually, people are replacing the traditional cooking ranges with convection ovens as well. These types of ovens have a built-in fan and exhaust system that helps to blow hot air in and around food and vent it out. This helps to cook food evenly and quickly.
8. Combination of Spaces:
The latest kitchen designs aim for creating a distinctive style. This sort of style makes a statement and looks much attractive for sure. One of the popular trends is the juxtaposition or combination of spaces respectively. This involves turning things around and creating unusual combinations.
The different combinations include airy and all-white kitchen having a bold patterned tile backsplash. The other could be bright colored appliances in the kitchen. They help to enliven the kitchen experience and functionality. The combination can also be found for the cabinetry and flooring as well. Usually, the flooring has textured style in comparison to the sleek and polished cabinetry.
Therefore, the above kitchen designs for 2017 are best whether you intend to remodel your kitchen or plan to go for new home construction. They truly enhance the beauty and functionality of the kitchen indeed.