Aside from makeup, another thing I like to splurge on is skincare products. I have been really wanting to change my skincare routine, particularly my face cleansing routine, to get rid of those nasty acnes that seem to emerge on my face once in awhile. Let's face it, we all have those problems once in awhile! I usually do not get acne, but when I do get them, they like to stick around for a couple of months and they always seem to appear on my chin and occasionally on my cheeks. It's never else where! Anyone else have the same problem?! I hope I'm not the only one! So over the past several months, I have been trying out quite a few face cleansing products to see what works for me and what doesn't. …And with that, I have decided to share with you guys my
top 6 skin cleansing products
 (both expensive/inexpensive products) that I swear by.
Kate Somerville – Exfolikate Intensive Exfoliating Treatment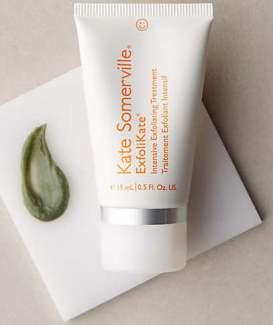 I LOVE Kate Somerville's skin care products. They can be quite expensive for the amount of product you get. However, they are worth every penny! For those who struggle with oily skin and acne, I highly recommend Exfolikate. It is amazing and very effective when it comes to combating those stubborn acnes that don't seem to vanish. Exfolikate has a gel-like consistency that helps exfoliate your skin both chemically and physically with the small microbeads. I like to wash my face with a face cleanser and luke warm water before using this for maximum results. I normally exfoliate my face in gentle circular motions when applying this and then letting it sit on my skin for about 2 minutes to let the chemicals do its magic! Then I wash it off. Just a heads up, there is a small tingling sensation when applying this face cleanser and the smell is quite strong. It's very gentle on my skin. However, other people found it to be a little harsh. So I definitely recommend trying a little sample of it before purchasing! I use this approximately once or twice a week (sometimes 3 times) depending on my skin's condition.
Boscia – Exfoliating Peel Gel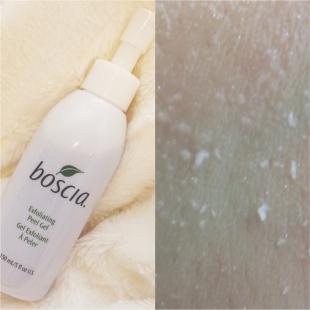 Boscia is another exfoliating facial product which works wonders on my skin. It is 
all-natural
and
completely
preservative free
, so you don't have to worry about any chemicals. Also, it comes in an
eco-friendly bottle
. So if you are into this kind of stuff, you'll love this! The product comes in a
pump bottle dispenser
, which I sort of dislike because it makes it harder to bring with you when traveling. This product by Boscia is a 
peeling gel
. It comes out like a clear gel and when you begin to rub it on your skin, you'll see that all the dirts and impurities that was on your skin peel off. I love this product because it's not only all natural, it's also extremely
gentle on your skin
and effective. You can visually see the dirt coming off. This is
perfect for all skin types
!
Peter Thomas Roth – Beta Hydroxy Acid 2% Acne Wash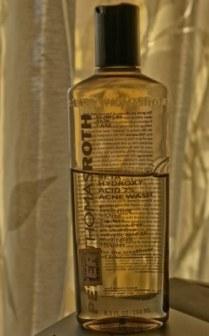 Beta Hydroxy Acid 2% Acne Wash has been my new favorite face wash. I use this daily at night and sometimes during the morning. This product is 
great for those with oily/combination/acne prone skin
. The
packaging isn't that exciting
, it looks like a shampoo bottle. However, i really love this because unlike a pump bottle dispenser, you can easily take it with you when traveling. I tend to travel back and forth from cities a lot, so this definitely makes it easier for me to carry around in my luggage. Aside from the packaging, I also love that
very little goes a long way
! You
only need a pea sized amount
to cleanse your entire face. This definitely makes up for the high price of this product, as it will last a long time! Beta Hydroxy (aka. salicylic acid) 2% Acne Wash is a
chemical exfoliator
which is extremely good at cleansing. It leaves your skin feeling really soft. This face wash is also
really great at tackling acne
. It gets rid of acne quite fast. I have tried Murad's acne cleanser line and that did not work for me at all. I did not notice that much difference when using Murad. However, PTH's Beta Hydroxy Acid 2% Acne Wash definitely works great for my skin and I started to notice a difference in less than a week. Most of my acnes were gone. If you can't afford this cleanser (I know it's extremely expensive!), another great product that is quite similar to this one is
Neutrogena's Oil-Free Acne Wash
containing 2% salicylic acid.
VIVO Dead Sea Minerals – Facial Peeling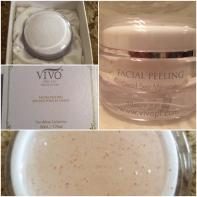 This product is a facial
peeling mask
perfect for
all skin types
. The packing is really beautiful. The only downside I find about this particular product is that
there isn't much product
in the container for the price you pay for it. This peeling mask has a gel like consistency with small microbeads and works extremely
similar to Boscia's Exfoliating Peel Gel. 
However, this one is a
bit stronger that Boscia's peeling gel
. When I use this product, it's really hard to take it off my skin! So I advise you use a facial towel when taking this off, because it does not like to come off easily! However, it does clean your face really well and leaves it soft. If you use this product 2-3 times a week, it does leave you with glowing skin and makes your skin feel really clean. I only use this product once a week or every other week.
Clean & Clear – Deep Action Exfoliating Scrub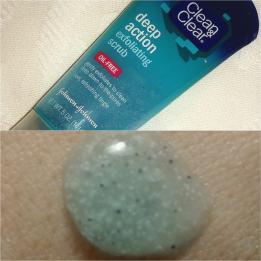 Clean & Clear's Deep Action Exfoliating Scrub was actually recommended to me by a friend. It is extremely inexpensive compared to the other products mentioned above. I would definitely recommend it for all skin types! I immediately fell in love with this product – it is amazing. It is both a chemical and physical exfoliator with small microbeads. When you go to apply it on your face, you get a really cool, tingling sensation. I love that! I use this cleanser every morning.
Nivea – Refreshing Facial Wash Gel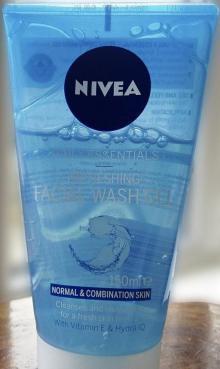 This face wash has a very similar packaging and price as Clean & Clear's Deep Action Exfoliating Scrub. This face wash gets all the dirt off your face. It gets everything out, even the stubborn mascara on your lashes. I love this product and use this before putting on makeup and when taking off makeup. I tend to stay away from makeup wipes/makeup removers because those tend to give me breakouts and a lot of them have oil in them, which isn't something you want for oily skin! So this face wash has always been my go to when it comes to taking off makeup. It does not have oil and works really great. It's amazing!
If you guys have any questions, let me know in the comments below.
Also, thank you (again!) to all those who entered my giveaway. If you haven't already, there's still some time left! Hope you all have a fantastic day!!! :)
Xo! – S