Happy new year all! It has been awhile! Today I am going to share with you my top 7 secret skincare products that I buy on Amazon that can help clarify your skin and get that radiant, glass skin that most Asians are famous for… You know, that perfect, bright, glowing, youthful, acne and scar free skin?! Yeah, that! The best thing about these skincare products are that ALL of them are under $20 – very cheap and affordable!
1. Vivo Per Lei Facial Peeling Gel

Price: $11.39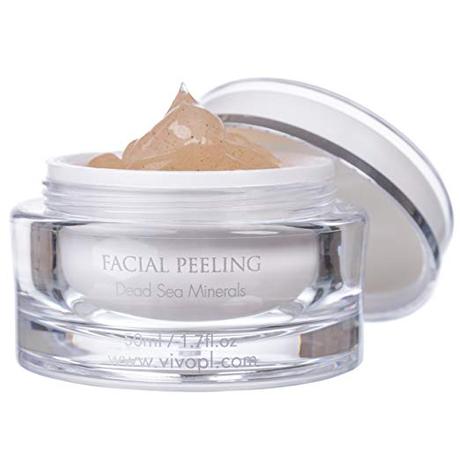 Vivo Per Lei facial peeling gel is my favorite, holy grail product! This was recommended to me by my fashion model friend and I've been in love since! It is similar to Boscia's exfoliating peel gel ($34 USD) but works BETTER! The peeling gel contains dead sea minerals and nut shell powder that exfoliate the skin and remove blackheads… this stuff is so strong and gentle on the skin, it will leave your skin feeling smooth, cleansed and clear after a few days of using it. It removes ALL the dirt that are buried deep in your pores. When used regularly, it makes your pores smaller and leaves your skin GLOWING! Guilty confession, I sometimes use this on my neck too! Plus, it comes in a luxury looking packaging! What is not to love about this product?!
I like to use a gentle face cleanser with warm water to get rid of the excess dirt before using this product. Then after using the peeling gel on my cleansed and dry skin, I wipe it off using a wet washcloth. I use this product about 1-2 times a week (sometimes more, if I have a special event coming up).
2. African Black Soap

Price: $14.20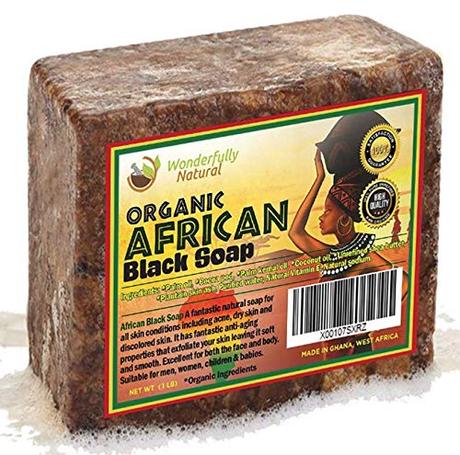 This organic soap works wonders on all skin types, especially acne prone, oily skin or sensitive skin. It's not like a regular soap that you pick up from the grocery store to wash your hands, it is specifically made to use on your skin. If you are suffering from eczema, cystic/adult acne, pimples, frequent breakouts, dark spots or scars… this soap is for you!  It clarifies, smoothens and softens your skin and gives a clear complexion in about a month and the product lasts you almost an entire year.
This 1 pound soap is pretty big, so I like to cut off a small cube for regular use and saran wrap the rest of the soap and store it in a cool, dry place. I like to use this product every other day or twice a week and moisturize afterwards.
3. TruSkin Naturals Vitamin C Serum for Face, Topical Facial Serum with Hyaluronic Acid & Vitamin E

Price: $19.99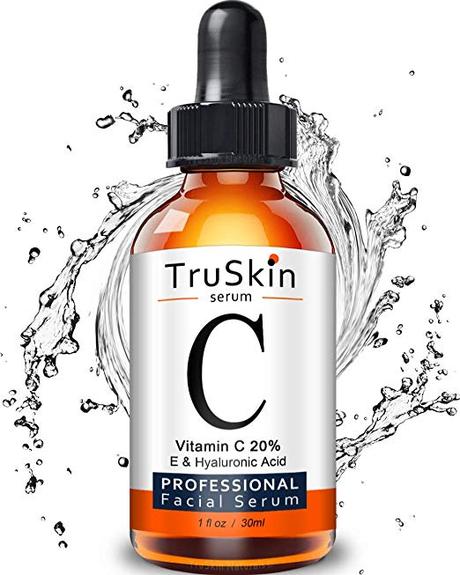 Vitamin C is an excellent product to any skincare regime and helps brighten your face! TruSkin Naturals Vitamin C anti-aging serum is particularly phenomenal at removing sun spots, wrinkles, dark circles, and scars. There is no better time to prevent fast aging than in your 20s! This anti-aging serum contains hyaluronic acid that is great at reducing the appearance of fine lines and wrinkles and speeding up scar healing. Likewise, the vitamin E in this product also helps to heal scars and is an amazing antioxidant. If you use this product daily, you will have a bright, glowing, and radiant complexion in no time! Your pores will be smaller, you'll have less acne scars, and you'll have a more youthful appearance. Don't believe me? Check out the results!
How often do I use it in my skincare routine? Usually morning before heading out and at night before going to bed. A little goes a long way!
4. Radha Beauty USDA Certified Organic Rosehip Oil

Price: $14.95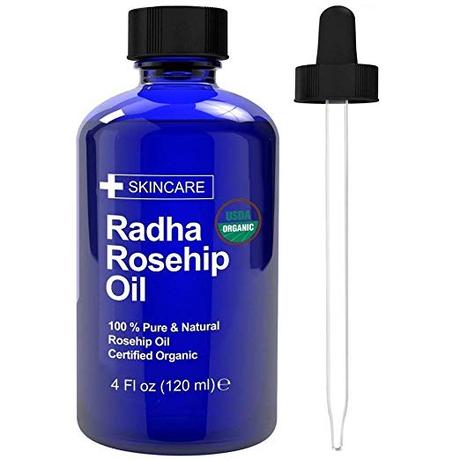 Radha cold pressed, organic rosehip oil is one of the best moisturizers out there for your face. It not only moisturizes your face, it is a great anti-aging oil that contain lots of antioxidants that help brighten your skin, even skin tone, reduce breakouts, reduce blemishes/scars and signs of aging. Furthermore, this oil is very light on the skin, so it's a perfect moisturizer for those with acne prone, oily and sensitive skin. It goes not clog your pores at all and when paired with the vitamin c serum, it works wonders!
I use this rosehip oil as a moisturizer and a little goes a long way!
5. Aztec Secret Indian Healing Clay

Price: $10.95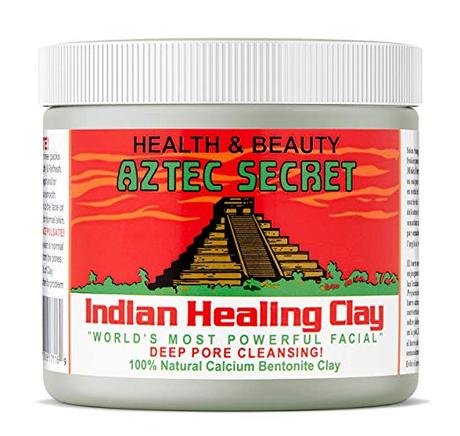 This deep pore cleansing face mask containing calcium bentonite is phenomenal! This is amazing for all skin types, especially oily and sensitive skin. If you have cystic acne or really acne prone, this mask will do wonders for your skin. The mask vacuums your skin clean and gets rid of all dirt stuck deep in your pores and the blackheads. It attracts all the toxins out of your skin and you will feel your skin pulsate as it does its magic! Also, you get 1 pound of this product. It will last you an entire year if not more! Warning: do not mix this mask with metals – use plastic/glass container and spoon to mix the powder into a paste.
How I use this? First, I use a facial steamer to open my pores. Then I apply the mask on my face, let it dry and clean it off with a wet washcloth. Your face will be red but it will go away soon. I usually use this mask 1-2 times a week. There are many ways to make the mask. I normally make it with apple cider vinegar (mother included), rose water, lemon juice or plain water. I will even add in a few drops of tea tree oil if I have breakouts, mix in honey if my skin feels dry or add aloe vera.
6. Thayers Alcohol-Free Rose Petal Witch Hazel Toner with Aloe Vera

Price: $16.61 (Pack of 2)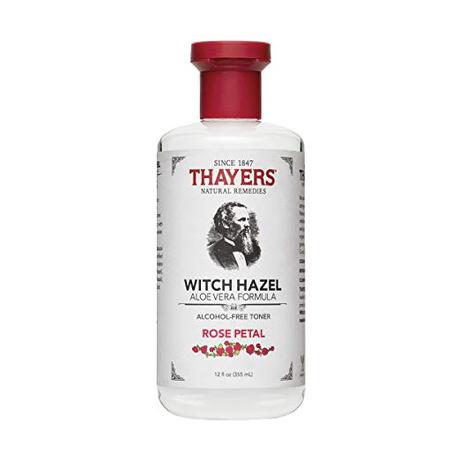 This is one of the best and cheapest toners out there for normal, dry, oily and combination skin! It is really good at clearing redness, breakouts, scars and discoloration. The best thing about this product is that it's alcohol free and therefore does not dry out skin. Also, it has powerful ingredients like witch hazel, aloe vera and rose water that are amazing at keeping skin hydrated, moisturized and clear of breakouts. Bonus: the smell is amazing! I use this 1-2 times a day.
7. Mario Badescu Facial Spray with Aloe Herbs and Rosewater

Price: $12.00

Mario Badescu has one of the best skin care lines ever and this rose water facial spray is one of my favorites. It is perfect for sensitive and dry skin and leaves your skin feeling soft, refreshed and moisturized. The smell is amazing –as if rose petals have been thrown to your face! Also, a bonus, it works great as a makeup setting spray.
I have oily skin, so I use it during winter when my skin is dry. However, for someone with dry skin, this is your best friend!
There you have it! I hope you guys will enjoy some or all of these products as much as I do. I am always looking for amazing, effective products to add to my skincare routine. So definitely comment below on what your favorite skincare product is!
Xo! – Maiya