Missed part one? Check it out here!
This is such a fun little blog post series to be doing! I really wish I was a kid again – I don't like being an adult much. I don't think I'm very good at it. I think if I could go back to being a certain age I'd probably want to be 8 again. I can't really remember anything that happened back then, but 8 years old is an age where it's still perfectly acceptable to play with silly little toys all day and go to bed at 7pm…
As soon as I started writing part one to this series I knew immediately what was going to come next! Again I found a box of these in the garage, but the box was HUGE. I started getting these quite young and never stopped loving them. I remember I had this little tiger money box that my Nan would put my pocket money in and when I came home from primary school sometimes I would run and grab the money box and the Argos book and see if I'd saved enough to go and buy a new toy! And I always picked the same brand. Every. Single. Time. I always asked for a couple for Christmas too!POLLY POCKET! I was seriously so obsessed with these things. Sometimes there's a bit of confusion when talking about Polly Pockets – I'm talking about the tiny tiny ones. The ones where the little doll thing (Polly) would be the size of your fingernail. I did have a set with the big Polly's that had rubber clothes, but the little ones were my favorite.
Below is one of the last ones I can remember buying. It was so cool, and I was really into horses at the time. It had a little lever and a magnetic Polly on a horse and you could make it look like they were riding around! The little squirrels in the tree would spin and the horse on the grass would look like it was drinking – so cute! They'd introduced two new characters by this point too: Lila and Lea. (Click on picture for more info)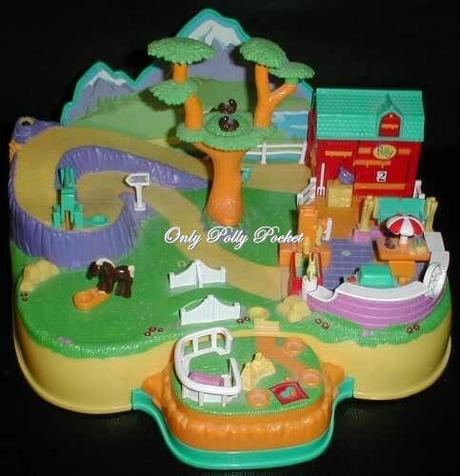 And below is one of the first ones I ever remember owning! I loved this little thing – I had two of them! I feel really sad and shitty that I can't keep these things. I had so much fun with them and there's so many memories with things like this, but I just don't have the storage to keep them. We've given them to some of my Mum's friends kids, but I might be cheeky and see if I can get one of the little Forest ones back…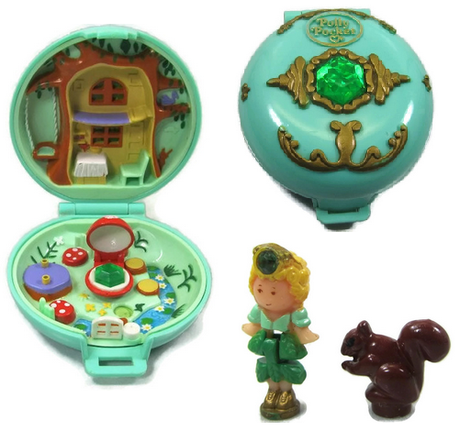 Did you used to play with these? Let me know if you've held on to any of your childhood toys!