The 2013 SAG Awards pack some serious star power, but they're sandwiched between the Golden Globes and the Oscars like some strange halftime show. Seriously, Ryan Seacrest couldn't be bothered to host E!'s red carpet coverage – hence why we didn't live tweet. We only snark when Ryan's in the building. However, we did enjoy the pre-show fashion show and were mostly underwhelmed. Seriously, after the night of red at the Globes and last night's navy takeover, the Oscars gowns better be pretty mind-blowing. Luckily, the SAG Awards jewelry more than made up for the meh gowns. Perhaps Hollywood stylists have heard the pleas of jewelry bloggers 'round the web, perhaps not, but we don't care: last night the stars wore necklaces. Statement earrings and bracelets typically reign supreme over the red carpet, but last night we were so, so thrilled to see that 4 out of our top5 jewelry looks were claimed by fabulous necklaces.
5. Naomi Watts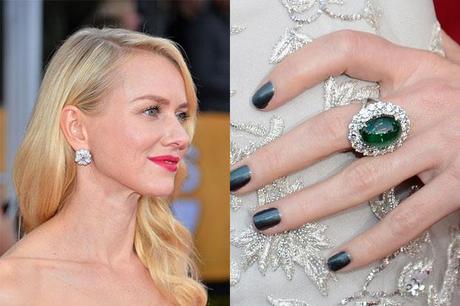 via Red Carpet Fashion Awards
Our only non-neckware fave, Naomi stunned in Faberge jewels (remember? Faberge is making a comeback.) We loved her silver thread embroidered Marchesa gown and the diamond cluster earrings she chose nicely accented the gown's crystal embellishment. Naomi also added a pop of color with an Emerald Cabochon ring surrounded by more diamonds.
4. Jessica Chastain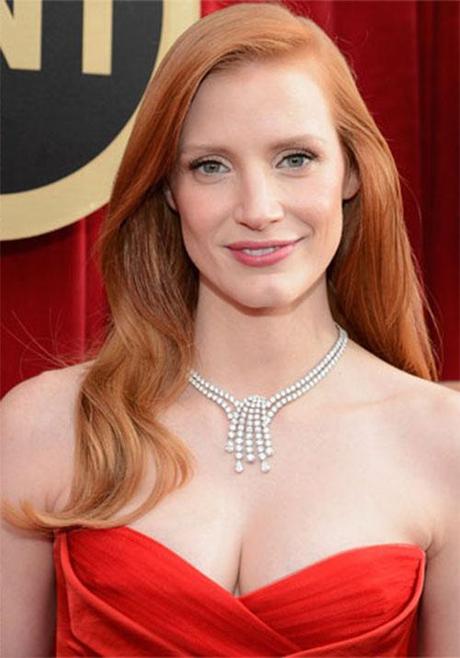 via Red Carpet Fashion Awards
When Jessica steps out on the red carpet, we know she's going to deliver in the sparkle department. The gorgeous actress favors Harry Winston and Chopard, and loves her some diamonds – a girl after our own heart. So it's no surprise she's a fixture on our best jewelry lists,and it's no surprise that we loved her Harry Winston diamond necklace last night, along with her markedly improved McQueen. Definitely a step up from the disaster at the GG's.
3. Marion Cotillard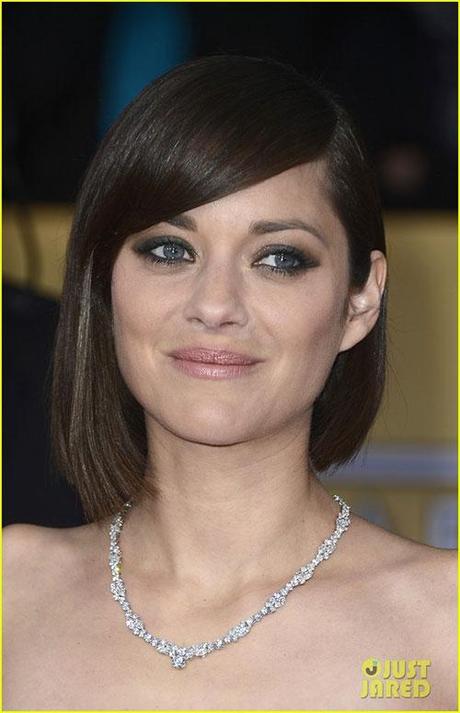 via Just Jared
Marion debuted an amazing new haircut last night – all the better to show off her Chopard diamond necklace. The French beauty worked her Dior Haute Couture gown and paired it with a diamond cluster necklace featuring rounds and marquise diamonds.
2. Busy Phillipps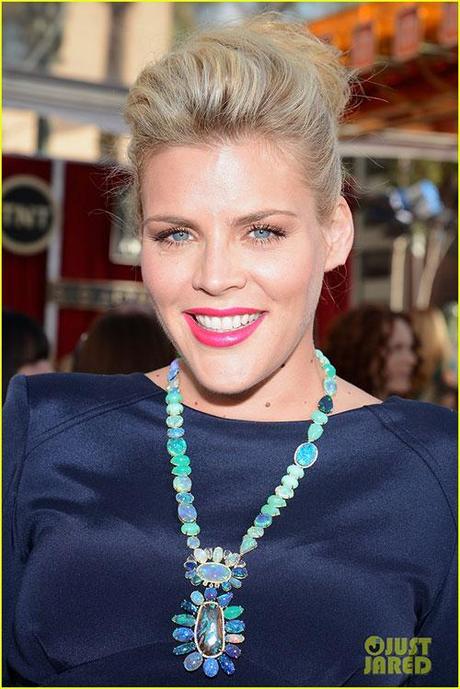 via Just Jared
Busy rocked her baby bump in a Gabriela Cadena gown in navy. She stuck with a cool color palette and let her Irene Neuwirth jewels pop against the clean and simple long sleeved gown. The one of a kind opal necklace featured rounds that graduated to an amazing geometric pendant. Busy also added a yellow gold and opal statement ring.
1. Amanda Seyfried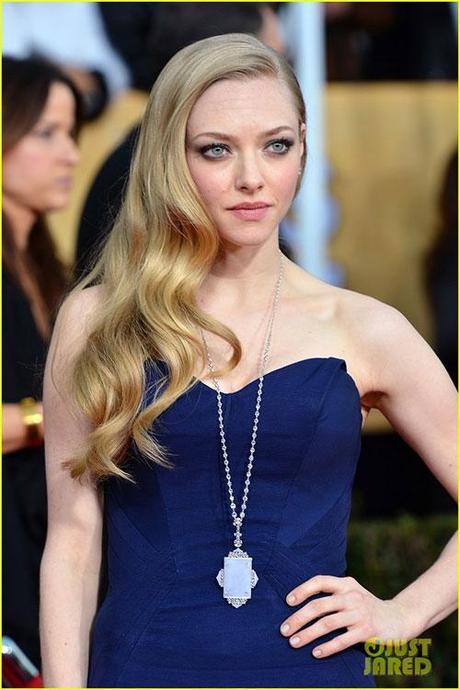 via Just Jared
Amanda's on our best dressed overall list from last night in addition to our jewelry picks. The Les Miserables star stunned in her navy Zac Posen mermaid gown and retro curls. But really the shining point of her ensemble was an Art Deco inspired carved jadeite Lorraine Schwartz pendant. The pendant hung on an opera length diamond chain that we never see on the red carpet – let's hope this sparks a new trend.