There is something especially promising and regal about a tiara. When you go ahead and accent that tiara with stunning turquoise stones, then you take the elegance the elegance to a whole new level. Here are four turquoise tiaras that we would all love to add to our collections.
1. The Teck Turquoise Tiara of the Duke and Duchess of Gloucester-
Most tiaras on this list are set in silver, but this one boldly uses gold with a huge payoff. This one features braided golden leaflets that are all connected to a single golden braid at the bottom. As the name suggests, it was meant purely for royalty.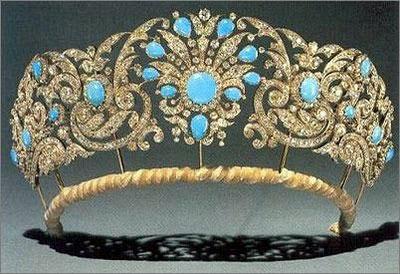 2. The Persian Turquoise Tiara of the late Princess Margaret-
The princess had a love of turquoise even as a child. She received this magnificent parure of turquoise jewels for her 21st birthday, complete with a broach and matching earrings. The tiara is made to incorporate the lamps of love, a laurel style design, and true-lovers; knots that make it truly irresistible.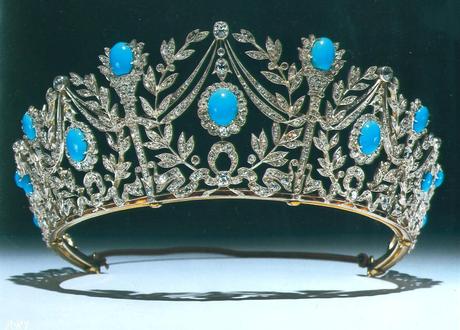 3. A tiara of the Empress Marie-Louise of France-
This was once set with emeralds, but they have been sold and replaced with turquoise. This tiara features large turquoise stones that are fitted alonside hundreds of small diamonds and complete with a diadem turquoise in the crown. It is now on display at the Smithsonian.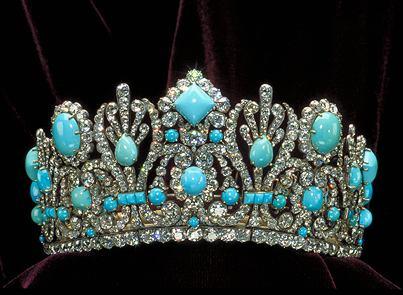 4. The Saxe-Coburg and Gotha Turquoise Tiara-
This is a button-style tiara that features a large set of turquoise stones, completely surrounded by diamonds. These stones are set atop a intricate framework of diamond scrolls that make it a beauty to behold. The larger buttons are also complimented by smaller turquoise pieces.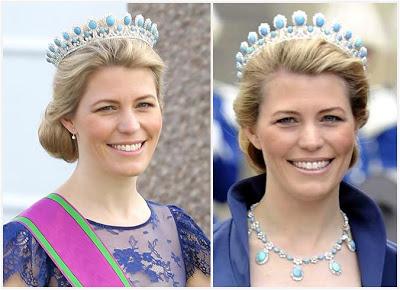 Whether you have light or dark skin, blonde or brown hair, turquoise can be a great way to get you noticed. Be sure to add one of these beautiful tiaras to your jewelry repertoire to make sure you are always looking your best.