Hey guys,
We never got a summer in the UK did we? 
But whatever there was, I am sure we all made the most of it! Even for a week.
I wanted to share my top 3 or more like my most used fragrances in the summer. I do use them any other time too but these are very summer appropriate and very affordable too. I am a perfume obsessed person. I admit. I have too many but they cost a lot! And I do have to save up to get perfumes or use my Boots points ;) But I discovered these around last year I think and have been using them since.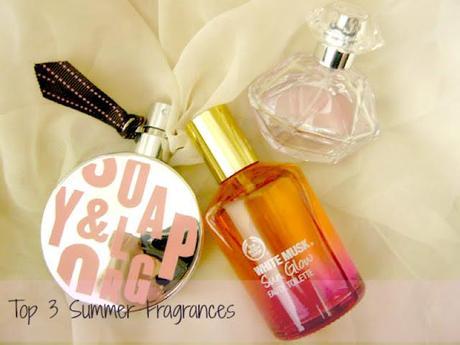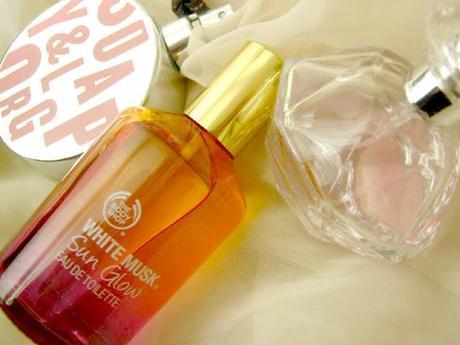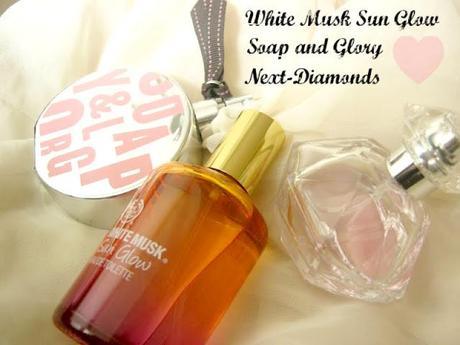 The first one is the very well known fragrance by Soap and Glory (RRP£16.50).

 I bought this last year on boxing day and it came in a set with the righteous butter. I bought the set for the body butter to be honest cause there's such a huge hype about it and I don't know if I am right but they launched the perfume during Christmas last year? Anyways the set was on half price for £8 so I got a great deal! Yes, I waited till boxing day  ;) When I did use this fragrance I was in love! It's lasted me for such a long time too and hey Christmas is coming soon so might just get another ;) It smells expensive. When people ask me what I have on they get shocked that it's not Dior or Chanel. Obviously it smells a lot like the soap and glory products but much better if you ask me. It's a fresh fruity citrus scent, with notes of roses, strawberry, jasmine and musk. Its like cupcakes! But I have to say don't put too much of it on. Just a spritz, otherwise its too overwhelming. I am not a huge fan of sweet and fruity scents but I love this! Summer perfect. 

The second one is my 

favorite

 and it's by The Body Shop. Its their

white musk-sun glow eau de toilette

and it smells gorgeous! This has to be the perfect summer 

fragrance

. It has a blend of peony, soft 

peach

 notes and some zesty lemon. It's very 

feminine

 and very floral hence being my 

favorite

. It's just very fresh, elegant and musky but not overwhelming. It stays on me for a very long time too.How pretty is the bottle? 

And last but trust me not the least is a fragrance from Next. Its called Diamonds RRP £10. My sister got this as a present last year and I loved it so got me one. I looked up on the website and they say that it's a very floral fragrance with fresh fruit nectars and crystalline musk and I have too agree. It beautiful. And  I've heard that this is a dupe for 

Miss Dior Original (Miss Dior Cherie) to which I partially agree. I love that its pink! It's actually a lot darker as a pink than in the image L

ooks very pretty. It doesn't stay on for too long but for the price it's worth it! 

Hope you guys enjoyed this blogpost!

What are some of your favourite fragrances for summer?

Any dupes? ;)

Hareem x