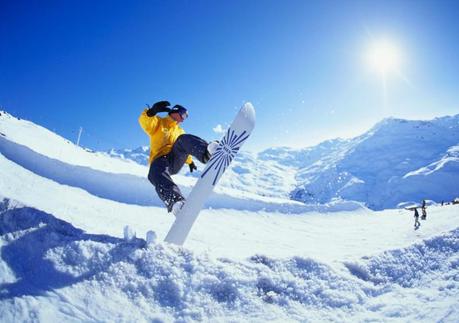 The best way to maximise the thrill of snowboarding is to get first-hand professional advice and instructions. Remember, attending lessons doesn't mean snowboarding insurance isn't required; you still need to cover all eventualities. Here are a few schools to consider.
The Snow Centre, Hertfordshire
Specialising in both ski and snowboard activities, The Snow Centre is an ideal place to get thorough training indoors. The school offers freestyle snowboarding lessons: a style similar to skateboarding tricks, but performed with your snowboard instead. All necessary gear such as helmets, snowboards, boots and poles are products of HEAD brand and are available for use free of charge. Lessons are offered for adults, seniors and children with discounted rates for club members.
All instructors are trained by Pete 'Silver' Gillespie, a Snowsports instructor and ski course coach with 22 years of experience under his belt. The Snow Centre is recognised as a Centre of Excellence by The British Association of Snowsport Instructors. Visit their site for more info.
Sno Zone, Milton Keynes and Castleford
Sno Zone has two venues, Milton Keynes and Castleford, and offer indoor snowboarding lessons on their daily iced slopes. Beginner snowboarders are given a choice between 3 types of lessons up to level 4. Full details about the each lesson are available on Sno Zone's site. Private lessons and family private lessons are also available. Booking prices include all necessary equipment such as helmets, poles and snowboards but excludes ski clothing, which can be hired from £5.
Every Thursday and Friday is Freestyle sessions where you can learn, share and perfect your ice tricks with their expert instructors and the best local snowboarders. Since its launch in 1994, Sno Zone has had close onto 2 million people performing snow sports on their 170 meter long slopes. Booking online is an option that automatically qualifies you for a 5% discount.
Snow Dome, Staffordshire
The popular school's promises offers two Snow Academy areas and a main slope spanning 170 meters. You can perfect your freestyling moves with the best facilities available for beginners and experienced snowboarders. Usually, beginner lessons are a group of 3 x 2 hour lessons. The Learn how to Snowboard in a Day package offers a full day course to get you geared up and enhance your snowboarding skills in 1 lesson lasting 8 hours with meals provided. Complimentary equipment and safety gear is provided with adults and children's lessons. Private lessons are also available.
All Snow Dome's staff and instructors are First Aid trained by the British Association of Ski Patrollers. Lessons must be pre-booked and discounts are offered for club members only. Keep a lookout on their site as specials are available for non-members as well.
Saajida Akabor writes for Essential Travel, providers of snowboarding insurance; travel cover for many wintersports.