In light of the new royal couple heading to the Seychelles for their honeymoon, I thought I'd do a round-up of all of my favourite places there to help you decide where to go for your honeymoon. As you probably know, I went there on my honeymoon, to my favourite place in the world: the Sainte Anne Resort & Spa.
1. Sainte Anne was a fantastic honeymoon choice. It is on its own island with 87 private villas. Ours had its own pool and an amazing view of the beach, so we didn't have to leave our villa if we didn't want to, but the island itself was gorgeous and so worth exploring. It really felt like our home away from home over the two weeks that we stayed. We also had a chance to visit the spa, which was incredibly relaxing and such a treat after the stress of the weeks leading up to my wedding. There were also plenty of water sports – we particularly enjoyed the glass-bottomed boat because the view underwater was really fabulous and it was an easy way to look underwater without having to learn to scuba dive.
2. The Banyan Tree Seychelles is another fantastic spot for your honeymoon. Located on Mahe, one of Seychelles's largest islands, it's an award-winning haven for honeymooners. The spa is probably one of the highlights; it's open on all sides so you can enjoy your massages and treatments in the midst of the natural islands. These villas are also really lovely, designed in a Creole style and very spacious and attractive. All villas have their own pools.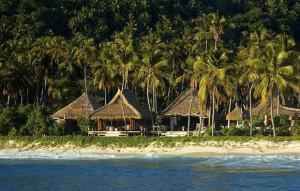 3. Finally, North Island, the ultimate luxury, is of course where Wills and Kate have now celebrated their own marriage with a ten day honeymoon. North Island is the most exclusive island in the Seychelles and has a price to match – it's often said that if you have to ask how much it costs, you should probably go somewhere else. But if you're looking for the ultimate in luxury, there is really nowhere else to go. It's incredibly intimate and you will often feel as though you're completely alone on the island, as there are only 11 villas and each are completely separate and private. There is also an infinity edge swimming pool for swimming on land, a variety of activities, and a gym to keep you active.
In my opinion, the Seychelles are one of the best places in the world for a honeymoon. Would you agree? Why or why not?