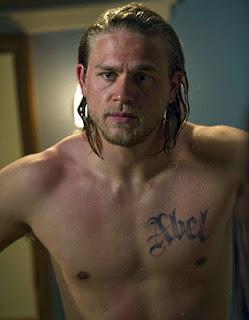 Real rednecks are never, ever this handsome
Radio stations air commercials for local retailer Gun Hippo, an emporium for buying handguns, rifles and automatic weapons for "personal" use. Gun Hippo's website flashes a photo of a tattooed woman holding guns in each hand, wearing a bikini that barely covers her enormous breasts.
Motorcyclists, who in no way resemble Jax from "Sons of Anarchy," don't wear helmets.
Fish and pay lakes, recreation featuring the proverbial shooting of fish in a barrel by locals who are too fat and lazy to participate in an actual sport, are considered an acceptable form of leisure activity.
Teeth are considered a luxury.
Policemen, smoking cigarettes, drive the wrong way down one-way streets.
Bad grammar is not considered ironic.
The local newspaper's Reader's Choice survey names Dunkin' Donuts the best coffee shop in the area even though actual coffee shops, featuring locally roasted free-trade coffee beans, exist.
Whole Foods and Trader Joe's, acknowledging the futility of introducing food items that fall under the category "healthy," wouldn't be caught dead within a 150-mile radius.
Recycling is optional.
People routinely ask you how much you paid for your mixed-breed rescue dog and if you'd be willing to sell him.