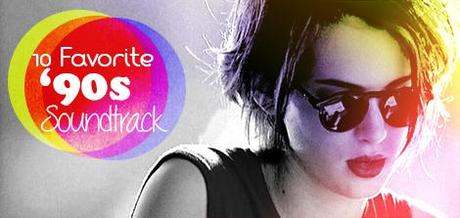 Started with an urge to listen some of the '90s tunes and feeling nostalgic, I thought why don't I blog about the soundtracks? They are even better and certainly worth mentioning, especially I realized that it's been 15 years since the decade ended (feels like it was yesterday).
The post Top 10 Favorite Romance Soundtrack is such a hit and even today, it's makes sense to do a similar post and narrowed it to the '90s. Some of it have the same songs, very few I haven't even watch the movie yet. I enjoyed compiling this list and it brought me back when I was a teenager.
Making the list, I discovered my tendency to love a movie that not only impressed me with the story, but also the soundtrack. It's cool that some that I favorited ended up being one of the best soundtrack of the decade, when I didn't care about it back then. You might find that these list dominated by romance or teen genre, I have to eliminate some songs that are unsuitable for my ears today, or because back then I was just a teenager. The teen in me would have The Faculty soundtrack or Britney Spear's You Drive Me (Crazy)

Feel free to add your version of best soundtrack of the '90s. I hope this list can brought you back to the '90s as myself. Check it out (it's a two page article) :
10. Lovefool – The Cardigans (Romeo + Juliet – 1996)

9. Fake Plastic Trees – Radiohead (Clueless – 1995)

8. I Have Nothing – Whitney Houston (The Bodyguard – 1992)

7. I'll Remember – Madonna (With Honors – 1994)

6. Leaving on a Jetplane – Chantal Kreviazuk (Armageddon – 1998)

It's not over yet! Click for the next page!