It's mid-October, and most of the country is enjoying an Indian Summer, and grasping at the last few straws of summer in the atmosphere.
But before the temperatures start to drop, fashionistas can get a head start on this fall's hottest trends (all of which you can wear straight into winter). Raymond Lee Jewelers has compiled 10 of fall's perfect pieces – both for your closet and your jewelry box.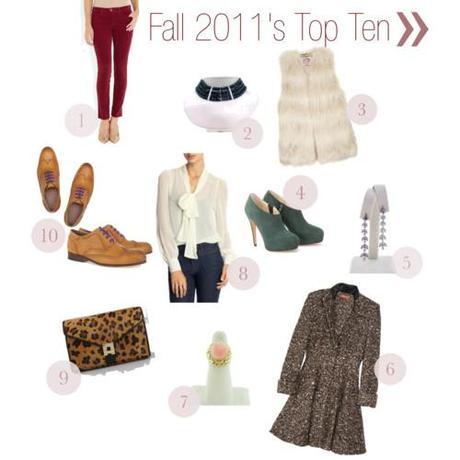 Red Denim: Colorful denim has been all over the streets and runways this year, and the trend continues into fall – just trade your punchy bright reds for a moodier, darker hue, like brick red.
Chokers: We wrote before about the big comeback of the choker, and geometric, architectural statement chokers are all the rage. This onyx number is right on trend.
Foxy Faux Fur: This Juicy gilet is supple, textured, and totally luxe. Wear now over chiffon dresses and tights, and later in the season under leather motorcycle jackets; come holiday season pair with your sparkliest cocktail dress for a completely unique twist.
Suede Booties: They're sexy, comfortable, warm (but not hot) for in-between temps, and they pop in fall's duskier 70′s shades.
Shoulder Dusters: We don't advise wearing earrings like these Tiffany Garland stunners while doing any actual dusting, but rest assured, they'll let the whole room know you "clean up" nice.
The Need for Tweed: This Alice & Olivia coat is perfectly ladylike, definitely warm, and right on-trend with fall's sophisticated return to the traditional.
Filigree Jewels: Earlier this year (and even in 2010), super elaborate jewelry was all the rage. The trend continues with slightly smaller statement pieces, and more attention to detail. For example, this amazing Angelskin coral and 18k gold filigree ring. Not only is it elaborate, but the coral shade is right on target for Pantone's prediction that emberglow would be one of fall's biggest colors.
The Bow Blouse: This fall's most versatile piece is undoubtedly the pussy-bow blouse. The options for combining it with wardrobe staples are endless, and the ways of wearing it are myriad (tight, ladylike bow ala Kate Spade, long, loose knot for a sailor look, tied up at your waist, etc.)
Animal Kingdom: This season is all about animal prints – from leopard to snakeskin, this trend is perfect on anything from shirts to skirts – though we prefer to make accessories pop with a big-cat-clutch or some python pumps.
Ladies/Gents: This season, women's fashion borrows from the boys when it comes to footwear. All manner of loafer pumps, plush slip-on oxford flats, and update brogues like these are fall perfection.
Readers, what are your favorite fall fashion and jewelry trends?
Liz for
Raymond Lee Jewelers
, your source for
jewelry news and trends
.