My last post about working with a professional photographer was a huge success, read HERE, and since then I had been itching to put together another post about all the photography equipments that I use when taking photos/videos myself. Most of the times my Photographer is to be credited for the awesome photos, but there are times when I need to take photos at home- either of a lifestyle campaign or just some lifestyle content that I am voluntarily creating for the blog.
'It takes a village to raise a child' - this is pretty befitting in the case of photography. It takes a lot of patience, lighting, angles, perception, and a ton of supporting gears to take a good photo. For an amateur like yours truly some basic knowledge and a few equipments that I've talked about below go a long way but for professionals- these would probably be nothing. So whatever I've featured today is what I feel comfortable using as an amateur. I've used these over time and can say are my go-tos for when doing photos myself.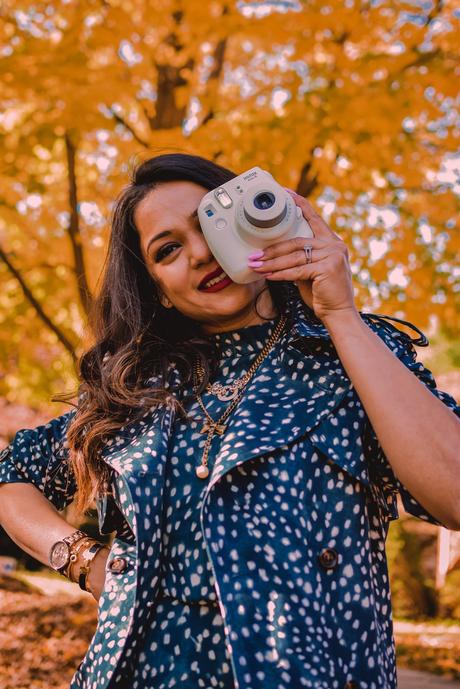 Shop the equipments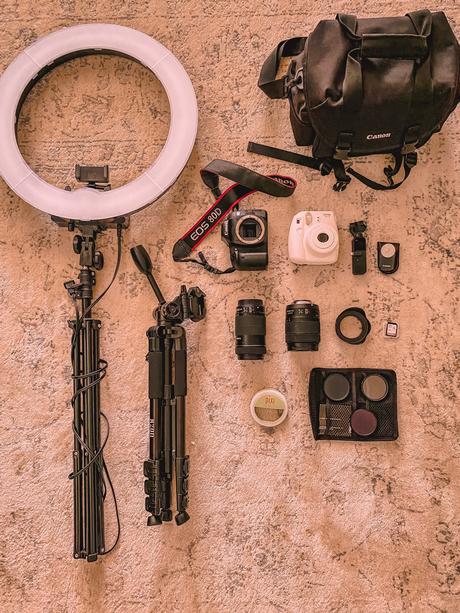 The picture above pretty much sums up all that I use on a daily basis for creating content. I did so some research before buying the equipments and I will try my best to share my honest opinion about all.
Going clockwise, left to right:
RING LIGHT: this is the holy grail of all photography lighting. Shadow boxes use to be a thing but now most influencers use ring light. It is lightweight, easy to install, easy to use, comes in a few different sizes, and has the phone/camera mount too. What I like the most is the diffuser cover they come with. I own one but have been contemplating getting another one to get a more balanced light when doing videos.
CAMERA TRIPOD: This use to come in very handy when I was doing all photos on my own. I would mount my camera on the tripod and use a remote to take my pictures. But now I mostly use it when using my DSLR for filming videos. From my experience I would recommend investing in a good tripod. I've had bad experiences of my tripod tripping due to winds with camera mounted on it- yes, it was heartbreaking to have a scratch on my first DSLR. Look for one that is sturdy enough to withstand these small accidents. I would highly recommend trying out one.
CANON CAMERA BAG: I could have gotten the backpack but I'm not a backpack person, so I skipped it. I use it more for storage of my gear rather than the function of it.one has multiple slots, was the cheapest I could find online, and hence I bought it.
: I've always been a Canon girl. I traded my old Canon Rebel T3i for the 80D and I wouldn't have it any other way. If you are testing the waters I would suggest trying out the Rebel line of Canon- it is so user-friendly. Even my daughter could maneuver that. I had my old Canon for a good eight years until I traded-in for the 80D. Most of the features were same but 80D has built-in Wifi and is touchscreen enabled. I can transfer my photos from my camera to my phone using WiFi instantly. This one, well most of the Canon DSLRs come with the basic 18-135 mm lens. It's good to have a couple basic lens, and a couple zoom, telephoto lens. Mirrorless cameras are the new thing, but honestly I like my get to be old-school. My hands are set at using the DSLR and I feel more in control with my .
INSTAX POLAROID: this was a gift from a brand and I have to admit- I LOVE IT and so does Riri! It is the simplest yet most creative way of taking photos. It produces amazing results when shot in the right light and makes great memorabilia. It is handy, comes in a few other colors and the the polaroid style options make it all the more fun.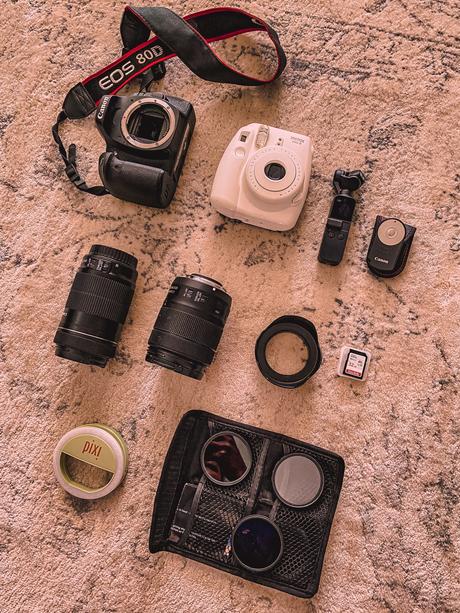 DJI POCKET OSMO: this is the pocket version of an action camcorder. This was a recommendation from a cousin who is into film-making and I love it for making my own mini films. You can take stunning photos and stable high-resolution videos with this DJI Osmo Pocket handheld camera. It features a three-axis mechanical gimbal, which makes it easy to capture stable videos by automatically adjusting for hand movements.DJI Osmo Pocket handheld camera lets you take gorgeous panorama shots and capture footage in 4K resolution.
CANON CAMERA REMOTE: I don't use it much these days, but there was a time when the remote was my designated photographer. It was simple and easy to use and a battery change would last me a couple months. There are much fancier versions of the remote but I liked it for it's simplicity.
SD CARD: I have always used a 32 GB SD card. I wasn't aware but my photographer believes that the photos save faster on a higher GB card and it also speeds up the clicking process- interesting right!
18-135mm f/3.5-5.6 LENS: This is the most basic but most used lens of mine. It came as a part of my camera and I find myself using it all the time. It works as a wide angle lens and a zoom lens too. In case you were wondering, 18-135mm refers to the focal length of your lens- 18mm is wide angle, and 135mm is more zoomed.
55-250 mm f/4-5.6 LENS: This one is telephoto lens. A telephoto lens has a long reach, allowing you to photograph a subject that is far away or magnifying the subject in your frame. Generally, a lens is considered "telephoto" if it has a focal length of 55mm or longer. These work will with focusing distant objects, give that bokeh effect and the photo quality is far more sharp. I use this lens mostly when traveling and shooting outdoors.
SELFIE RING LIGHT: The more ring lights you have, the better( LOLZ)! AS you can tell this one was a gift from PIXI and I always use it when doing Insta-stories. This one is battery operated but the first one that I bought would charge using USB.
In addition to all of the above I also own a lens hood, that I use when shooting outdoors in bright sun. I also own lens filters that I use for colored effects.
These are just some of my photography must-haves, which ones do you own and what else would you suggest owning?
Shop the products featured