It was just one lousy punnet of the stuff I bought, about three bucks' worth of laziness. And now I've got an almighty great glut of basil to deal with. In fact I have another glut on my hands. Who would have thought two tiny cucumber seedlings could pop out a fridge full of cucumbers - well, they can. Anyway, back to the basil. Not only did I have too much, it was starting to be a nuisance. Let me explain.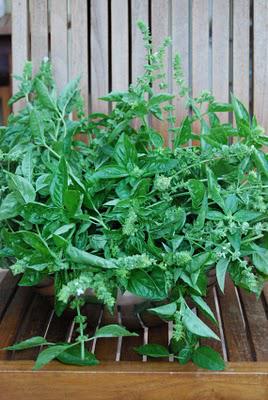 Here's the trimmings, destined for the kitchen. Gosh they smell nice!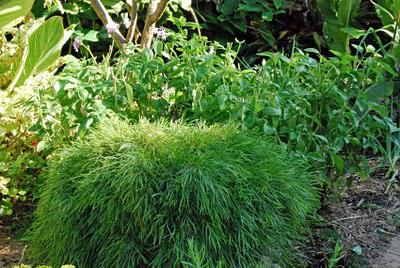 And here's the reason the trimming had to be done. Our resident delicate petal, Acacia cognata (in the foreground), otherwise known as Cousin Itt, is a perfectly healthy foliage plant that has an unfortunate tendency to suddenly cark it. Anything not quite to Itt's liking and it's 'hasta la vista, baby'. Terrible track record, this plant. Prior to the trimming, the basil behind Itt was about a foot or more higher than it is now. Itt now gets all of its morning sunshine back, restoring it to a full day's worth of the stuff, which is one of its precious needs. The others are only occasional watering, lowest possible humidity levels (and the basil was crowding Itt, too), fab soil drainage, and sheer good luck.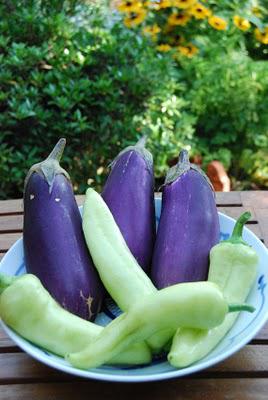 As for what to do with the basil, the first part of the answer is easy. Some of it is going into a tomato sauce, where these banana capsicums will also feature, and that tomato sauce is going to go over thin, lightly grilled slices of these delicious-looking purple Lebanese eggplants. The eggplant-tomato sauce combo will then be alternately layered with some spicy, cooked minced lamb, to form a moussaka-ish invention which I will be making up as I go along tonight. I like moussaka, but with all that gooey, heavy bechamel sauce in between each layer it's not right for summer, too heavy. As usual my experiments are done on live human subjects, and so that's what Pam and I are having tonight, along with some steamed greens on the side.
As for the rest of the basil, that's both easy and predictable: pesto. I love pesto, and when I make a batch I then freeze it in tiny little Tupperware containers that each only hold about two tablespoons of the stuff. Pesto freezes easily and keeps for months. Of course I like pesto with pasta, but I prefer the pesto-and-pasta combo in smaller doses, as the 'carb side dish' offering instead of potatoes or rice, in small servings on the side when you're presenting something else, such as chicken or veal.
My thawed pesto dollops are also lovely as a quick and tasty sauce to go with a grilled or pan-fried chicken breast, for a mid-week meal.
My pesto recipe is the one from Stephanie Alexander's 'The Cook's Companion' best-seller book, with the raw garlic toned down. Such vicious stuff, raw garlic. It's like loud metal music. I don't like too much of either.
1 cup well-packed basil leaves
1/2 cup extra-virgin olive oil
30g pine nuts
1 clove garlic, crushed (Stephanie adds 2 cloves, which is three times as much as 1, as raw garlic behaves exponentially)
salt to taste
60g grated parmesan cheese
Whizz the basil, oil, pine nuts, garlic and salt in a blender, till it's a green sludge. Pour and scrape this into a bowl.
Stir in the parmesan cheese, in batches.
This makes a lot, so aim to freeze at least half of it, for later use.
As usual with such simple recipes, the niceness of the ingredients counts for everything. Nicest basil, nicest oil, nicest cheese. I can't afford the nicest oil or cheese - mine's more middle-class, like me. But my basil is the best that money can buy. Three bucks a punnet of seedlings, home-grown the organic way in Aussie sunshine.