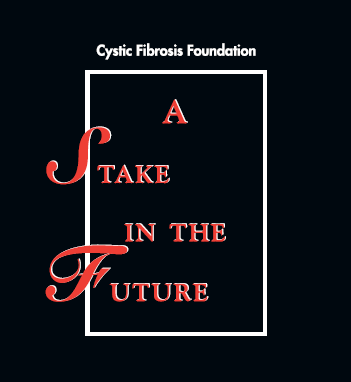 Tonight, Raymond Lee Jewelers will celebrate the hard work and dedication of the Cystic Fibrosis Foundation's South Florida Chapter for their sixth annual A Stake in the Future fundraiser.
The Cystic Fibrosis Foundation is the leading organization devoted to curing and controlling cystic fibrosis. CF is a genetic disease that can lead to life-threatening lung infections and digestive problems. Headquartered in Bethesda, Md., the Foundation funds CF research, has more than 70 chapter and branch offices throughout the country – like this South Florida Chapter – and supports and accredits a nationwide network of CF care centers, which provide vital treatments and other CF resources to patients and families.
The event will be hosted at Ruth's Chris Steakhouse in Boca Raton, and will be an evening filled with a cocktail reception, lavish dinner selections, and both live and silent auctions. Raymond Lee Jewelers is honored to be a part of this cause, and donated this gorgeous piece to the silent auction.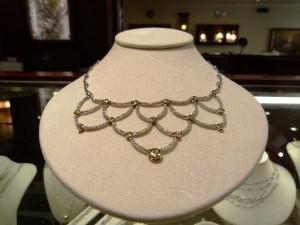 This beautiful fancy bib neckalce is made of 14k white and 14k yellow gold. It contains 3-carats worth of round brilliant diamonds.
The event will benefit Cystic Fibrosis Foundation's 65 Roses, so named  for the following, touching story:
"65 Roses" is what some children with cystic fibrosis (CF) call their disease because the words are much easier for them to pronounce.
Mary G. Weiss became a volunteer for the Cystic Fibrosis Foundation in 1965 after learning that her three little boys had CF. Her duty was to call every civic club, social and service organization seeking financial support for CF research. Mary's 4-year-old son, Richard, listened closely to his mother as she made each call.
After several calls, Richard came into the room and told his Mom, "I know what you are working for." Mary was dumbstruck because Richard did not know what she was doing, nor did he know that he had cystic fibrosis. With some trepidation, Mary asked, "What am I working for, Richard?" He answered, "You are working for 65 Roses." Mary was speechless.
He could not see the tears running down Mary's cheeks as she stammered, "Yes Richard, I'm working for 65 Roses."
Since 1965, the term "65 Roses" has been used by children of all ages to describe their disease. But, making it easier to say does not make CF any easier to live with. The "65 Roses" story has captured the hearts and emotions of all who have heard it. The rose, appropriately the ancient symbol of love, has become a symbol of the Cystic Fibrosis Foundation.
Raymond Lee Jewelers is so glad to contribute to the hard work of the Cystic Fibrosis Foundation, and we are eagerly anticipating this gorgeous necklace making its new owner very happy, while benefiting a wonderful organization.
Liz for Raymond Lee Jewelers, South Florida's choice for luxury watches and estate jewelry.