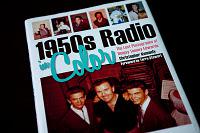 If you love early rock 'n' roll - and early rock 'n' roll radio - you will be mesmerized by the new book "1950s Radio in Color: The Lost Photographs of Deejay Tommy Edwards"(Kent State University Press).
Author Chris Kennedy discovered the lost, never before published color photo collection of  1950s Cleveland radio deejay Tommy Edwards back in 2006. The collection consists of over 1,700 Ektachrome slides of most everyone who passed through Edwards  radio station from 1955-60; including: Elvis, Chuck Berry, Doris Day, country music superstars, Hollywood celebrities and the inevitable unknowns.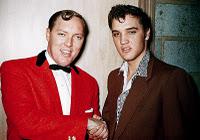 Elvis & Bill Haley
 Tommy Edwards was a man of many talents.  He was a deejay at WERE in Cleveland from 1953 to 1960; wrote the weekly "T.E. Newsletter" that chatted about what was going on in the music business; and was a photographer of artists he interviewed, met or saw onstage.  For example, in October 1955, Edwards took the only known picture of Elvis meeting Bill Haley. Haley was a full-blown star then, Elvis an ascending one.  Edwards took the music as it came. When Elvis Presley heated up down South, especially among country fans, Edwards helped set up his first live shows in the North, proving he wasn't just a regional starburst.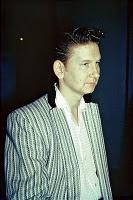 Roy Orbison minus
his trademark 
sunglasses.
The book has pictures of  Johnny Cash following the Emeralds,a young and depressed-looking Roy Orbison without the famous sun glasses; Gene Vincent and Hollywood stars like Henry Fonda andClark Gable.
As the 1950s wound down, Edwards who had become disenchanted with radio was fired by WERE.  Edwards ran record stores until he died in 1981.
Author Chris Kennedy has picked some great photos and newsletter snippets to illustrate a fascinating seven-year time capsule which in essence was  the dawn of rock radio.
The Rock and Roll Hall of Fame in Cleveland are curating a Tommy Edwards photo exhibit, January 12, 2012 through May 6, 2012.In 2006.