Courtesy of:   Galveston.com
Vintage Fashion & Fun Return to Galveston Island for Expanded Beach Revue Weekend
By: 

Galveston.com




Thursday, April 09, 2015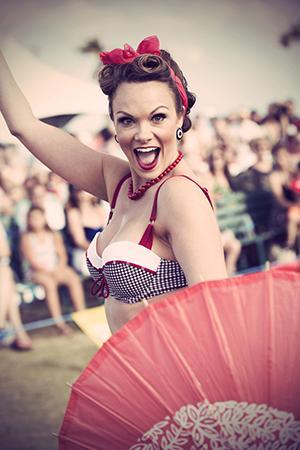 Vintage fun meets the historic backdrop of Galveston's Seawall Boulevard for the 7th annual Galveston Island Beach Revue, May 15th and 16th. Presented by Hotel Galvez & Spa® and held at Beach Central, 2102 Seawall, this year's revue expands on its programming with a new dance contest and classic car and vintage trailer show in addition to a full weekend of family friendly activities, headlined by the Bathing Beauties contest. Admission is free both days of the festival and complete information is available online atwww.galvestonbeachrevue.com.
"For two days in May, we can all take part in a celebration of Galveston's original Golden Age," states Will Wright, co-owner of Islander By Choice, LLC. "Held near its original location next to the Hotel Galvez, this year's Beach Revue offers plenty of vintage, family-friendly fun in the sun."
Continuing a partnership started in 2012, Islander By Choice, LLC has selected Galveston's Family Service Center as their charitable partner. Their counseling and educational programs serve residents of all ages and incomes and offer a sliding fee scale to make services available and accessible to all persons.


New in 2015




Friday Night Kickoff Party and Bands and Bombshells Concert


With live music by rockabilly favorites The John Evans Band, take to the dance floor under the Seawall stars for your chance to win top honors. Held from 6-10, enjoy live music, craft beers from Southern Star Brewing Company and a special introduction of the 2015 Bathing Beauty contestants. Be sure to dust off those dance shoes and get your best moves worked out for the new "Dancing with the Schwenk" dance contest held during that evening.


The Tom Schwenk, Realtor Hot Rod + Classic Car and Vintage Trailer Show


Hot rods, rat rods, vintage trailers and more are lining up to take part in the Beach Revue's newest addition. The Tom Schwenk, Realtor Hot Rod + Classic Car and Vintage Trailer show will make its debut Saturday, May 16th from noon – 4 p.m. Registration is $15 if submitted by May 8 or $20 after and the first 50 registrants will receive a limited edition Galveston Island Beach Revue dash plaque. Registrations are limited to cars from 1969 or older. Awards will be given in a variety of classes, including: Best in Show (top 3), Best Paint, Farthest Distance Traveled, Best Club Participation, Tom's Choice Award, Best Interior and Best Vintage Trailer. Viewing of the cars and trailers is free to the public.


Returning Classics


This year's event once again features a fantastic selection of vintage vendors, food and live music. Be sure to make plans to take part in these special events:


Family Service Center's "Retro-Active" Games


Looking for activities for your children? Family Service Center will be on site during the Beach Revue hosting a variety of family friendly games and programming beginning at 12:30 p.m. on Saturday, May 16th. Families will have a chance to walk around with their kids, learn about services to keep their kids safe, busy and happy all summer long, and then sit back and relax for the main show – the Bathing Beauties contest!


Southern Star Brewing Company Beer Tastings


Classic fun deserves a classic ale and Houston's Southern Star Brewing Company returns for a series of special beer tastings held Saturday at 1 and 3 p.m. Conducted by representatives of Southern Star Brewing Company, enjoy tastings of some of their popular beers, including Bombshell Blonde. Admission is $10 and tickets are available in advance online or day of at the merchandise booth.


Charcoal Championship Cookoff


Calling all Charcoal Grillmasters! Last year's favorite "Charcoal Championship" cook-off returns beginning at 1 p.m. Limited to the first 20 registered teams cooks are challenged to cook whatever they think will get the judges attention, as long as it's cooked over a charcoal fire. Registrations are available for $50 per team and available online. The culinary fun doesn't stop with the cook teams, as 100 people will have the opportunity to taste the entries for themselves with a specially purchased wristband. Available online, or at the merchandise booth the day of the event, the $10 wristband will allow individuals to eat and vote on their favorite dish.


Bathing Beauties Contest


Always the crowd favorite, the weekend's main event is the Bathing Beauties Contest, beginning at 5 p.m. Retro swim wear is chic and vintage is king as 40 contestants from across the country catwalk across Galveston's historic Seawall modeling vintage and vintage inspired swim wear and accessories that echo the "good ole days" of Galveston's summertime history. Cheer on your favorite as this year's contestants vie for cash prizes and top honors.


About the Galveston Island Beach Revue


Dubbed the "Pageant of Pulchritude" by C.E. Barfield, Galveston's Bathing Beauties Contest began in the summer of 1920 and marked the kick-off for tourist season each year. By 1928, the event, which had morphed into the "bathing girl revue" had become so popular, the Island's population was said to have tripled during the event weekend. These Island pageants were the beginning of what we know today as the Miss Universe Pageant. The famed Galveston Bathing Beauties pageants ended in 1932 due in part to the Great Depression and were resurrected in 2009 by Islander By Choice, LLC.


About Hotel Galvez & Spa®


Hotel Galvez & Spa®, A Wyndham Grand® Hotel and National Trust Historic Hotel of America, is the only historic beachfront hotel on the Texas Gulf Coast. This 224-room, century-old hotel offers 13,000 square feet of meeting space, a 9,763-square-foot spa, fitness center, full-service restaurant, lobby bar, pool with a swim-up bar and Hall of History. The hotel is rated four diamonds by AAA and is owned by the Cynthia and George Mitchell family as part of Mitchell Historic Properties. For reservations, call (800) WYNDHAM, or visit www.WyndhamHotelGalvez.com.


About Galveston Island


Galveston Island is a historic beach town located on the Gulf of Mexico just 50 miles from Houston. The island is best known as a vacation destination, offering 32 miles of beaches, a variety of family attractions, Texas' premier cruise port and one of the largest and well-preserved concentrations of Victorian architecture in the country.
For more information on Galveston Island visit www.galveston.com or call 1-888-GAL-ISLE.
For more information on the Seventh Annual Galveston Island Beach Revue presented by Hotel Galvez & Spa®, please contact Adrienne Culpepper, Event Coordinator, at 409-770-7360 or

[email protected]

 or visit www.galvestonbeachrevue.com.
Article written by 
Galveston.com

Galveston.com & Company, Inc. specializes in online lodging, cruise, parking, and transportation reservations; and event ti