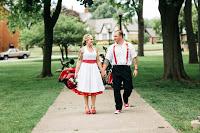 6 SECRETS ABOUT WEDDING DRESSES THAT MESMERIZE YOU
The inability to find the perfect wedding dress is one of the biggest nightmares for most brides. Without knowing what to look for while hoping to look great on the day, many brides eventually end up sacrificing themselves and trying hundreds of dresses from too many salons. So here are some secrets about wedding dresses.

Wedding Mood Really Matters - Your wedding style clashing with your wedding dress is the last thing you want to have. To avoid things like this, you need to decide on your wedding style. Do you want to be a princess in a ballroom wedding? Or would you like to be a goddess in a garden party? The next step is choosing the wedding dress that suits the mood. It is always good to choose your wedding style first and not drawing everything from your dress only.
Trust Your Stylist - it's certainly important to do your research before you start your shopping, so you can get a feel for the kind of dress you might want. Nevertheless, don't limit yourself! The stylist you work with is a professional, and they might have the perfectevening dresses in mind for you. Often times, brides enter the salon thinking they know what they want and come out with something they never expected! Don't forget to stay open-minded and let the experts help you in any way they can.
Sizing - As we have already said, buying a wedding dress is not like regular shopping, and neither is sizing. Wedding dresses run smaller than off-the-rack clothing so don't be surprised if you step into a size 10 when you are actually size 6. It is advisable you focus on how you feel when you put on the dress instead of focusing on numbers. The important thing is that you look and feel comfortable!
You May Not Cry - Despite what we've learnt from reality show, the great moment you decide what dress to walk down the aisle in may not evoke a huge emotional reaction. You might decide after trying on a bunch of them that a specific one flatters you the best, or you might pick one you can't stop thinking about. The bottom line is that there are dozens of different ways to react to finding theone and it might not involve any tears.
Express yourself - Expressing your taste in your wedding dress is the key to everything. Learn your daily look preferences first. If you like flats and casual makeup, choose a wedding dress with casual touch. If you are an elegant person, opt for a sophisticated design. If you are a vintage in your soul, you should check out these retro wedding dresses. A perfect wedding dress is the one that shows the best version of you and tells a lot about you.
Budget - Whether you or your family member will be paying for the wedding attire, make sure you have a clear number in your head. There is no specific amount you should or shouldn't spend on your clothes; it's completely up to you. We suggest that you think about what the wedding priorities are and allocate your budget toward those things accordingly. If your suit is one of them, do not hesitate to set a higher budget.