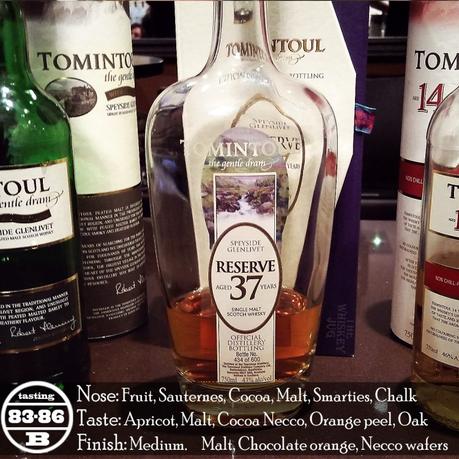 Of the entire Tomintoul line up we tried at the Tomintoul tasting this was the one I was holding out some hope for. Before the tasting I'd already had several Tomintoul releases and found them all to be rather lack luster, so I knew what I was getting into with those. In fact, if it wasn't for the 1967 Samaroli Tomintoul (46 years) I would have walked around my whole life thinking it was nothing but bland lifeless whisky.
That Samaroli release, coupled with this 37 year being in the line up, was the entire reason I laid down some of my hard earned money to attend this tasting. I wanted to work my way up the Tomintoul scale and see if they could put out an OB release that came anywhere near that cask Samaroli had put out. Having the score on the image above means I can't build up any kind of suspense as you can already see that the answer to that question is a remorseful "no, not really", but lets get on with the Tomintoul 37 Year Reserve Review anyways shall we?
Tomintoul 37 Year Reserve Info
Region: Speyside, Scotland
Distiller: Tomintoul
Mashbill: 100% Malted Barley
Cask: ex-Bourbon
Age: 27 Years
ABV: 43%
Price: $600+
Tomintoul 37 Year Reserve Review
EYE
Amber
NOSE
A weightless aroma of fruit, sauternes (yellow raisins), cocoa, malt, smarties, chalk and dark sweets. By far the most complex aroma of the Tomintouls we had at the tasting, but still not amazing.
PALATE
Dainty notes of apricots, malt, Chocolate Necco Wafers, orange peel and oak float on through. Again, it's a bit more complex than any of the other single malts represented that night, but not wildly so.
FINISH
Medium fade of Malt, chocolate orange and Necco Wafers.
BALANCE, BODY & FEEL
Ok sense of balance, medium body and a light smooth feel.
OVERALL
Tomintoul 37 Year Reserve is on the more complex side of the Tomnitoul scale, but that's not exactly saying much. With such a low bar to beat this whisky was almost assuredly going to be the best thing we tasted that evening and it was. I wouldn't put it high on the B scale, more like a 83-84, but it was a not-terrible dram and if it wasn't so horrifically priced I'd say it's worth trying to track down a taste.
As it sits though the Tomintoul 37 Year Reserve just isn't worth the price. You don't get a whole lot out of the whisky, making the value scale for it completely off-kilter for me. With how light and unassuming it is I couldn't imagine paying $60 for it let alone $600+. This is a perfect example of a whisky being expensive not because it's complex and dynamic, but just because it's old.
SCORE: 83-86/100 (B, not consumed at home)