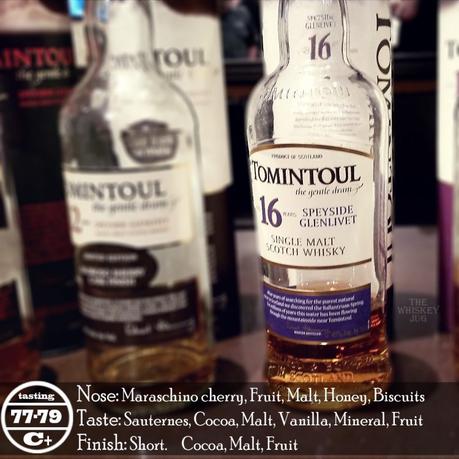 Tomintoul 16 "has been lovingly crafted, from a selection of the finest bourbon casks, each aged for at least sixteen years"… hmm I feel like I've heard that before. Oh that's right, that's because it's how they describe every single whisky they put out. Everything is lovingly crafted and done using only the finest whatever casks. It's flowery marketing language that doesn't mean anything and based on their cop-paste approach to their whisky descriptions I'd say Tomintoul is barely more excited about their own whisky than I am.
Tomintoul 16 Info
Region: Speyside, Scotland
Distiller: Tomintoul
Mashbill: 100% Malted Barley
Cask: ex-Bourbon
Age: 16 Years
ABV: 40%
Price: $75
Tomintoul 16 Review
EYE
Hay
NOSE
Light slow moving notes of Maraschino, dried fruit, malt, vanilla and biscuits lazily waft out. I wasn't getting much out of the aroma, but what I did get was decent and that's the problem with Tomintoul. It's not bad, it's just nearly not there it's so light.
PALATE
Sauternes (yellow raisins), cocoa, malt, vanilla, mineral water and fruit. There's also a touch of nuttiness in this whisky that pops up towards the end. Again, it's light, airy and boring. There's no depth or complexity to it.
FINISH
Short fade of cocoa, malt, fruit and nuts.
BALANCE, BODY & FEEL
What's there hangs on the sweet side – not fully balanced. A light body and a light feel.
OVERALL
In overall ranking I'd tie the Tomintoul 16 with the Tomintoul 12. I enjoyed them equally and both had the same level of depth and interest, which wasn't much, but enough for me to say they're both worth a try at some point in your whisky tasting journey. I'm not saying you should go out of your way to try them, but then again, who knows. You may end up liking them more than I did and you'll find yourself a new favorite dram.
You could then return to this post and leave an angry comment about how I'm wrong and don't know what I'm talking about and how the Tomintoul 16 blows away all expectations. That it's the kind of whisky you would drink to celebrate the birth of your first child with and set aside a bottle for them to share with you on their 21st birthday. Or you might order it at the bar, taste it, say "meh", agree with my assessment and move on with your life. I'm not Mentok the Mindtaker, I can't tell you if you will or won't like something I review. I'm just a guy who enjoys writing about the whisky he drinks.
SCORE: 77-79/100 (C+, not consumed at home)