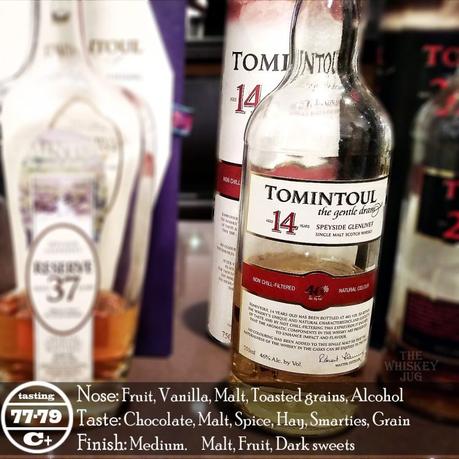 Tomintoul 14 is the same old ex-bourbon whisky as the Tomintoul 10 years, but it's aged for at least 14 years, is delivered at a respectable 46%, non-chill filtered and with only natural coloring. With how dark their ex-bourbon 10 year old was I had an inkling that they added caramel coloring to it and getting to set it right next to the 14 year old that touted its natural color it was obvious they had.
Even though it wasn't an impressive spirit the Tomintoul 14 is delivered the way I wish every whisky was. The 46% (92 proof) means it won't have any flocking when it gets cold (oils coming out of solution) so there's no need to strip the oils which removes the "need" for chill-filtration. Natural color means you're tasting the whisky without any color additives at all. If I had my way this level of delivery would be the bare minimum of what we saw on the market.
Tomintoul 14 Info
Region: Speyside, Scotland
Distiller: Tomintoul
Mashbill: 100% Malted Barley
Cask: ex-Bourbon
Age: 14 Years
ABV: 46%
Non-Chill Filtered | Natural Color
Price: $60
Tomintoul 14 Review
EYE
Hay
NOSE
Fruit, vanilla, malt, toasted grains, alcohol and butterscotch. It's light and not complex, but what's there is pleasant.
PALATE
Chocolate, malt, spice, hay, smarties, grain and a light touch of dark sweets. Nice, but not complex.
FINISH
Short drop of malt, fruit and dark sweets.
BALANCE, BODY & FEEL
Ok balance, medium body and a light soft feel.
OVERALL
Being bottled at a higher proof and non-chill filtered I had high hopes for the Tomintoul 14, but it continues that light and airy tradition the others started. There's no doubt it's a little deeper and a little more complex, but it's not by much. I'd peg it in on the higher end of the C+ scale because it's more balanced and cohesive than than the 10 or the 12 and nearly reaches a B-.
It might seem like I have something against Tomintoul, I don't, it's just so light and unassuming that when I'm drinking it I have a hard time getting more than mildly interested in it. Which is a characteristic some folks actually like, they enjoy the light whiskies that seem to barely exist in the senses and there's nothing wrong with that. I'm just not one of those people. I want a whisky to make itself known, be interesting and challenge my senses. Make me want to come back for more and keep exploring.
SCORE: 77-79/100 (C+, not consumed at home)