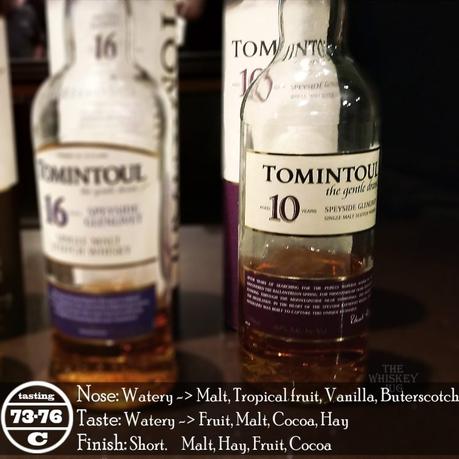 Tomintoul 10 is the flagship release from the Tomintoul distillery and despite its dark appearance -me thinks some e150 was used here- it comes from 100% ex-Bourbon casks. Though not any ordinary ex-bourbon casks, oh no Sir this whisky has been "…lovingly crafted from a selection of the finest bourbon casks" per the on-site marketing speak. You read that? The. Finest… how about a little distillery background?
Tomintoul's nick name / tag-line is The Gentle Dram which, after tasting through a large selection of Tomintoul, is rather appropriate because as you'll notice over the next 7 reviews the word light will be used a lot. The distillery itself is fairly young and was founded in 1965 making it a spry 51 years old and for the lion's share of its short life it was only used in blends with as little as 2% of its 3.3MM liters / year going towards its single malt line since 2009.
Tomintoul 10 Info
Region: Speyside, Scotland
Distiller: Tomintoul
Mashbill: 100% Malted Barley
Cask: ex-Bourbon
Age: 10 Years
ABV: 40%
Price: $40
Tomintoul 10 Review
EYE
Hay
NOSE
Flat lifeless malt followed by watery notes of tropical fruit, vanilla, butterscotch and chocoalte. It's completely limp, lifeless, light and watery.
PALATE
The palate is eve more limp, lifeless, light and watery than the nose. It barely tasted like anything, but what did register were notes of fruit, malt, a bit of cocoa and hay.
FINISH
So short you could just say it didn't happen and mimicked the palate with malt, hay, fruit and cocoa.
BALANCE, BODY & FEEL
So watery, light and sweet I can't call it balanced; a thin light body and watery feel.
OVERALL
Tomintoul 10 is a flat, light and lifeless whisky and calling it "The Gentle Dram" is an understatement. It comes across like someone mixed a regular 40% whisky 40/60 with water. It's easily one of the most boring whiskies I've ever had. It might sounds like I'm angry at this whisky, but I' not. I'm disappointed.
I've had some truly astounding Tomintoul, so I know the potential it has, but the Tomintoul 10 is unfortunately nowhere near that level. It doesn't even hint at a possibility of that level and that's… that's really disappointing.
SCORE: 73-76/100 (C, not consumed at home)