Today I wish the interwebs could deliver food through the screen, because this recipe is good.  It comes to you from the queen of lifestyle, hostess with the most-est, and our favorite white collar criminal... Martha Stewart. 
Let me tell you -- I have tried to tweak this recipe about 4 times, but it only tastes as good as the original with a few modifications. Risotto is a dish that I thought could only be made properly in a restaurant, but Martha knows what's up, and it's not as scary as you think. Picture yourself slowly stirring the ingredients over the stove with the windows open on a Sunday afternoon. Heaven.  It takes a while, and it's a little decadent, but it's worth the wait for a special occasion.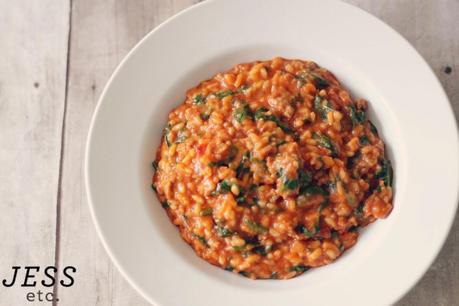 Ingredients serves 4, generously 
1 can (28 ounces) crushed tomatoes 1 tbsp olive oil 1 pound hot Italian sausage, casings removed 1 small onion, finely chopped (I used 3 tsp onion powder) 1 tbsp crushed garlic 1 cup Arborio rice 3 cups chicken stock (or water) ½ - ¾ cup dry white wine (whatever is in the fridge) 1 package flat-leaf spinach (10 to 14 oz), chopped 1/2 cup grated Parmesan cheese, plus more for serving (optional) 4 tablespoons butter Salt + Pepper to taste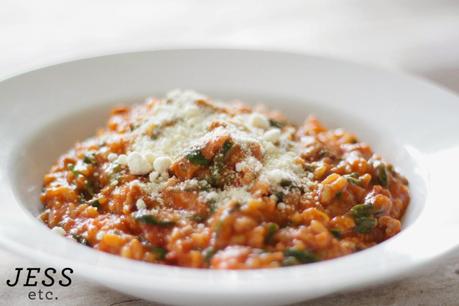 Directions
In a small saucepan, combine tomatoes and 3 cups chicken stock or water. Bring just to a simmer; keep warm over low heat.
In a large saucepan, heat oil. Add sausage and onion; season with salt, pepper, and garlic. Cook, breaking up sausage with a spoon, until sausage is opaque, 3 to 5 minutes.
Add rice; cook, stirring until well coated, 1 to 2 minutes. Add wine; cook, stirring until absorbed, about 1 minute. 
Add about 2 cups hot tomato mixture to rice; simmer over medium-low heat, stirring occasionally, until absorbed, 4 to 5 minutes. Continue adding tomato mixture, 1 cup at a time, waiting for one cup to be absorbed before adding the next, stirring occasionally, until rice is creamy and just tender, about 25 minutes total (you may not have to use all the liquid). You must pay attention during this part. Slow and steady wins the race!
Remove pan from heat. Stir in spinach, Parmesan, and butter; season with salt and pepper. Serve immediately (risotto will thicken as it cools), and sprinkle with additional Parmesan, if desired.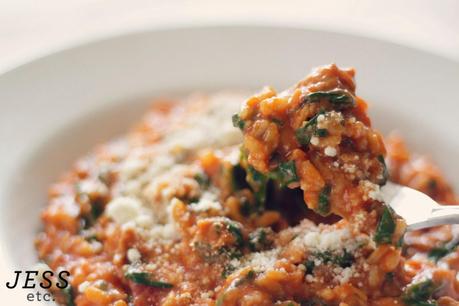 Serve with your favorite wine and enjoy your delicious work!