Oh hey! Remember me? The one that had a grand blog relaunch and disappeared a few weeks later? Yeah. That.
Well, it turns out that committing to blogging when it's gorgeous outside is hard work.
It's also tough to blog when you're in the middle of a gigantic patio project that took SO much more work than you had imagined.
Anywho, I'm back today.
We have been grilling non-stop lately. I was feeling kind of sick of regular ol' cheeseburgers, so I decided to mix it up a bit. The burger mix is delicious by itself, but the toppings kick it up a notch.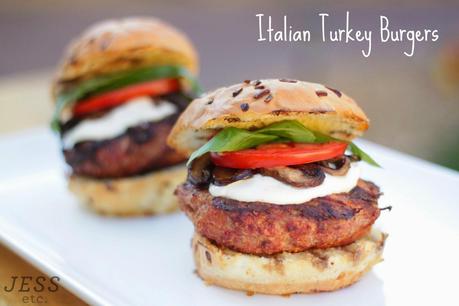 Ingredients
makes 6 burgers

1 pound hot Italian Turkey Sausage
1 pound lean ground turkey
1 clove crushed garlic
1 tbsp tomato paste
1 tsp parsley
1/2 tsp dried oregano
1/4 cup grated parmesean cheese (or breadcrumbs)
1 egg
1 pint cremini mushrooms, sliced
1 tsp salt + pepper
Top It Off
Fresh mozzarella cheese
Basil
Tomato
Your favorite burger buns (I used onion buns)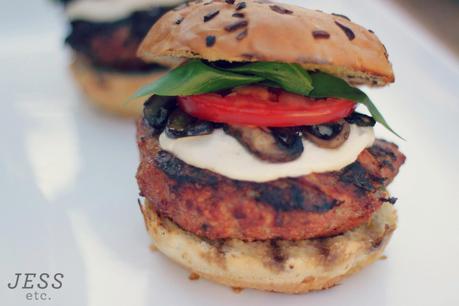 Directions 
Preheat grill to medium-high.
In a large bowl, mix together sausage, turkey, garlic, tomato paste, grated cheese, spices and egg (it helps it stick together). Form burger patties to desired size.
Slice mushrooms and put in an aluminum foil packet with about 1 tsp olive oil and black pepper.
Grill burgers and mushrooms until cooked through. Remove.
Place a bun face-down on the grill. Cook for just a minute until lightly toasted.
Melt a slice of fresh mozzarella over each patty.
Top with sliced mushrooms, a slice of tomato, and a basil leaf.
Enjoy!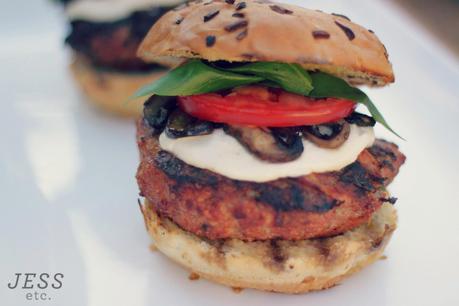 If you're in a grilling rut, try this out. It's a perfect summer burger, with a twist!