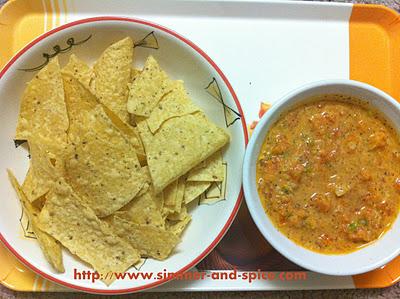 I am sure all of us love the salsa sauce that we eat with Tortilla chips. Well this is it. Home made tomato Salsa .This recipe is contributed by Ankur, Thankyou so much for taking out time and writing it down :) .
Ingredients :-
 3 fresh tomatoes
1 small spicy red or green pepper
½ red onion
3 tbsp olive oil
juice from half a lemon
salt and pepper
coriander leaves
Method :-
Slice the tomatoes first and then chop them taking out the seeds
Chop the onions finely.Also deseed and chop the pepper. Make sure to wash your hands after chopping to avoid burning your eyes with the juice of the pepper.
Now chop the coriander and mix the onion, the green pepper and the coriander with the tomatoes.
Squeeze the lemon juice and pour over the vegetables in the bowl. Then add the olive oil, salt and pepper.
 Blend all the ingredients together, until well mixed.
Taste the salsa and if necessary add salt and pepper. Its ready to serve now.Also, once the above blend is ready it can also be very very lightly blended in a mixer. If not it could be eaten in the above raw preparation.