It's been almost a year since I last posted any recipe. The reason for that is that I became a mom to little Mizo.he is now 8 months old and keeping me on toes .I have been so busy with him that I don't find time to post anything on blog :(
 I've so many pics of food and so many recipes in drafts yet to finalize and post it ( will try and do it soon :) ).
Recently I made this amazing tomato chutney  do try and let me know how it turned up.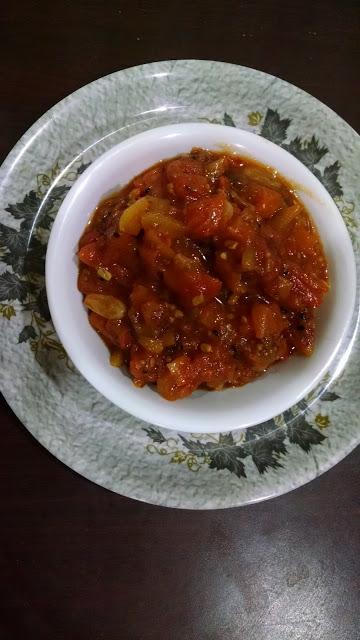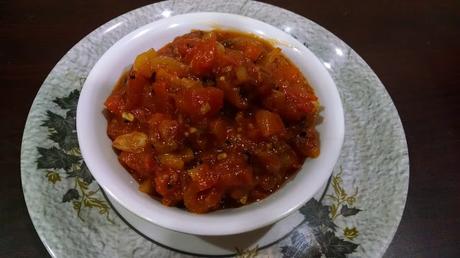 Ingredients:-
6 red Tomatoes chopped in pieces

1/4 cup boiled  and pureed raw Mango or  AAM Papad

8 Dates 

15 - 20 Raisins

50 gms Jaggery powder or Jaggery Syrup 5 tbsp if available.

1 tbsp oil

1 tsp cumin seeds

1 tsp yellow mustard

1 tsp fennel seeds

1 tsp onion seeds ( Kalonji )

1 tsp fenugreek seeds 

salt as per taste

2 dry chillies

1/2 tsp red chili powder
Method :-
Take a pan once its little warm add oil to it.then add cumin seeds . fenugreek seeds , fennel seeds , mustard seeds , Onion seeds and Red Chili and cook it for 1 minute.

Now add Tomatoes to the spice mixture above.Let it cook on slow flame and cover it for 5 minutes.

Mix it well and then add raisins , jaggery ,dates and raw mango ( or aam Papad if raw mango is not available)  to the pan . Mix it well . Cover and cook it for 5 minutes.Keep on stirring in between.

Now add Chili powder and salt to this . Mix it well . Tomato Chutney is ready to be relished.