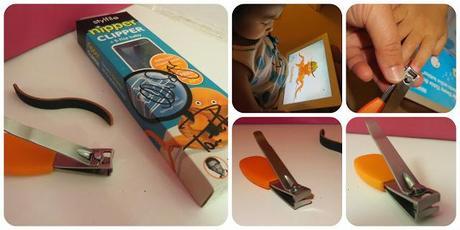 It is always so daunting to cut babies nails!  I still remember cutting Mr K's nails was like a military operation.  One person would distract him while the other would cut his nails.  I recall our health visitor suggested us to bite them off or just leave it for a bit longer before we peel them off because they're thin and soft when they are babies.  As a first time parent, we didn't dare to even cut them nor bite them.  It was always so hard.  We even exchanged tips on how to cut baby nails when we met with our friends with babies.  Some of them would just file them off and some would just wait until the baby's nails were far too long before they used a nail clipper.
If you have followed The Apprentice, you will probably know that the winner

of the 2011 Apprentice

Tom Pellereau has invented Stylfile, an innovative curved nailcare range that makes nail filing and clipping easy.  When he found out that he was going to be a dad, he started thinking about how to make clipping baby nails easier.  Here, Tom talks about his latest invention:
"Trimming babies' nails is a universal problem and a daily struggle for parents but Stylfile's new product has entered the market to provide a much-needed solution. The new Nipper Clipper is the world's first baby nail clipper with a safety spy hole, baby nail file and distraction app that allows parents to trim nails safely and correctly. The innovative safety spy hole allows parents to see exactly what they are doing, while using a clipper that is sharp enough to trim and cut nails.
Stylfile has teamed up with a children's app developer and an Education and Child Psychologist to combat this, through creation of the first nail clipper distraction free app, Timmy Tickle-Baby.  It is a distraction app designed to take babies attention away from the routine and unpleasant task of nail clipping by using a fun, colourful and animated octopus called Timmy.  The app has three different control options that are designed to suit babies of different ages so the experience can adapt as they grow.  Newborn babies will enjoy the Auto Control, which shows animations of Timmy pretending to be different fruit and characters, and as children start to speak Sound Control is designed to engage them as they make sounds of their own.  Finally the Voice Control setting is designed to recognize the parent's voice to create a reaction on screen and encourages children to copy the sounds themselves.  My daughter quite enjoyed watching Timmy even though the app is far too simple for her.  I do believe this is a great app for young children.  It is fun and children will love watching fruits or characters dazzling everywhere.
I have used the clipper on both the children after shower as I find that their nails are softer and easier to cut.  I love the unique spy hole which makes easier to see how much nail you are taking off.  Why didn't anyone think of that before!  It is so clever!  I don't think this nipper clipper is only for babies, as it works well on young children and I've even tested on myself too!  It is very smooth and effortless!  It also comes with a large orange handle which is much easier to rest in your hand than those pointy nail clippers.  It come with a curved S-file which is again very unusual.  It was surprisingly easy to hold and file down the nails.  I rate this 5 stars out of 5.  This is definitely a great bit of kit for any new parent with newborns and it works well with children too.
The 'Nipper Clipper' is available for RRP £9.99 Sainsburys, Amazon, Mothercare, Boots and local pharmacies.
I am a member of the Mumsnet Bloggers Network Research Panel, a group of parent bloggers who have volunteered to review products, services, events and brands for Mumsnet.  I have not paid for the product or to attend an event.  I have editorial control and retain full editorial integrity.