Having seen four bands in two nights here in Austin, Texas our country-style foot-tappin' toes are plumb tuckered out, folks. When I complained to Pammy yesterday of feeling not quite 100% she said "it's called a hangover, Jamie." She's right, too, but it was all in a good cause, if not quite in moderation. So let's start off with the gig we enjoyed the most, and we'll tell you about the others, too, because they were great fun as well.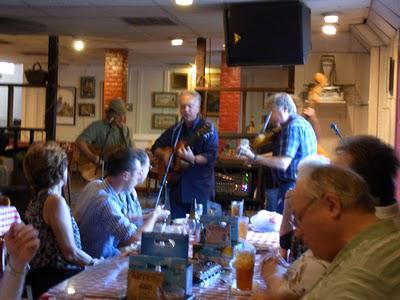 Here's the Texas Swing Kings, silky smooth and laid-back as can be, entertaining the crowd at Artz Ribs on South Lamar Street, Austin.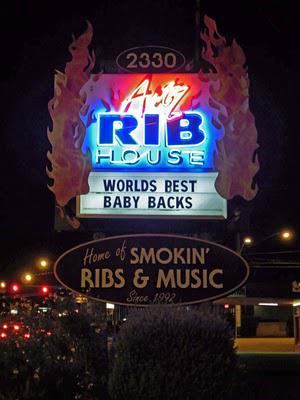 You can't miss Artz Ribs at night, although to see the Swing Kings we rocked up in daylight at 6pm. When we arrived the bluegrass jam, which had kicked off mid-afternoon, was just slowing down to a tuneful, finger-picking conclusion. (And guess what, Tummy Time fans, Artz Ribs is one of the star turns in the upcoming Tummy Time IV, so stay tuned).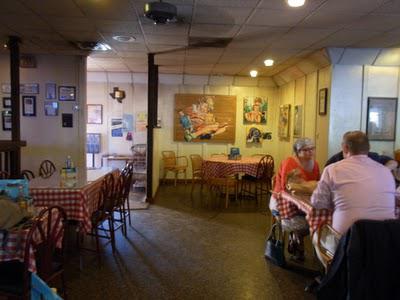 Inside Artz Ribs, the atmosphere is country-style and very relaxed. This shot was taken moments before the crowds arrived in time for the Swing Kings' 6.30 start. While the music was smooth and sweet country honey, the cream on the side was the funny jokes told by the band; the sentimental speeches because the dobro player was moving to Iowa and it was therefore his last gig; the cutting of a home-baked chocolate cake during the break between their first and second sets (to farewell the dobro player); and the way the band kept on inviting guests from the crowd to come up and sing a song, and sit in for a few numbers on fiddle and bass.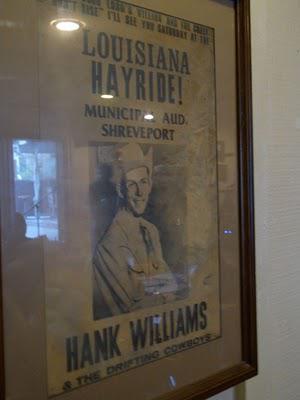 One framed poster in a corner at Artz caught my eye, of a country-style Sunday night long ago.
Here's the Swing Kings in action, at a music festival in France, giving you a pretty good sample of the easy-going silky smooth sound they played last Sunday night.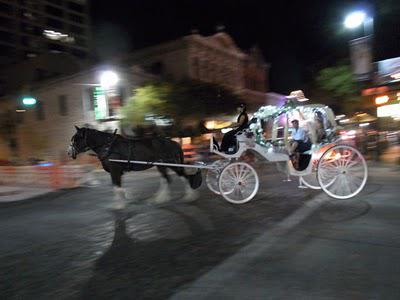 On our first night in Austin we had just checked into our hotel at the edge of downtown, so we didn't have all that much time to check out the music listings. No problem, just head for the jungle... er Sixth Street. Not that everyone in Sixth Street gets around in gilded coaches, but it is a glittery place. It's a long strip of bars, clubs and shops, with bands playing in most venues, although most of the bands provide more mainstream rock, blues and dance music for a much younger generation than ours, but the good news is that the atmosphere lacked any aggro. It was noisy but peaceful, if you know what I mean.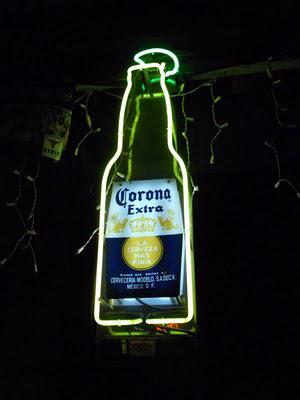 Every brand of grog you can think of has its own neon sign, and every venue has its own collection of a couple of dozen of them. This is a beer with a lime deficiency.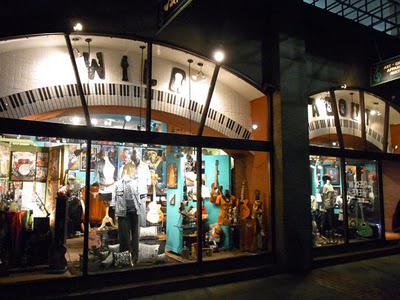 Wild About Music on Sixth Street is an incredible shop selling every known permutation of musical souvenir you can think of. As well as clothes, hats and fashion accessories of every kind, they have kitsch aplenty, dinnerware, art, furniture, crockery, books, toys, jewellery... you get the picture, but it's so comprehensive and well laid out that it's like visiting a fantasy musical museum.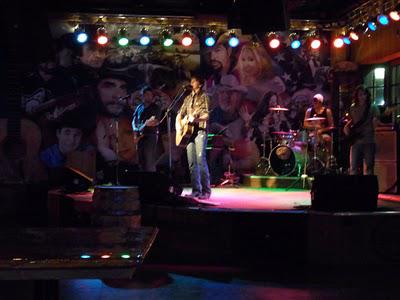 Somewhere on Sixth Street, I forget where, we heard something very surprising: country music! And so in we wandered (no cover charge) and listened to The County Line for an hour or so. A young country band so young the drummer's parents were there, they were good musically, energetic as young bands of boys tend to be, and not too loud.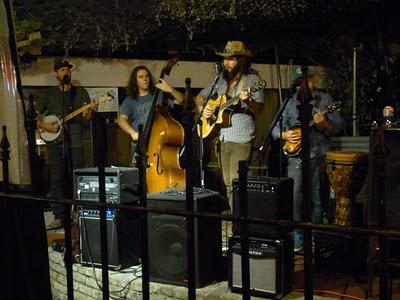 On the slow meander back up to our hotel we heard more country sounds in a garden-style outdoor cafe on South Congress Street, where The Good, the Bad and the Ugly were playing. Now these boys didn't do the energetic stuff, they just stood there, but they were even better than the County Line, and before you know it we were seated close to the band and sipping on something cool and blurry that clinked with lots of ice. Just look at the photo of the band and instruments they were playing and you can guess how they sounded.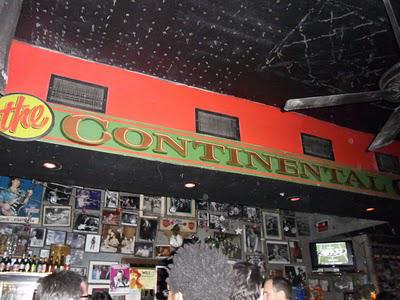 On Sunday night, after the Texas Swing Kings had finished their gig at Artz Ribs, we jumped in a cab and headed for the legendary Continental Club on South Congress Street. As well as Antones, the Continental is probably the most famous Austin venue. It was a surprise to finally walk in, because it's not all that impressive. It's a dark red, smallish, long and narrow joint with a decidedly dive-ish feel. The toilets were certainly amongst the worst we have encountered in the country, but they probably wear that distinction as a badge of honour around here. It was so dark inside that I had to resort to the use of flash (no class at all, this tourist) to take this shot of the sign over the bar.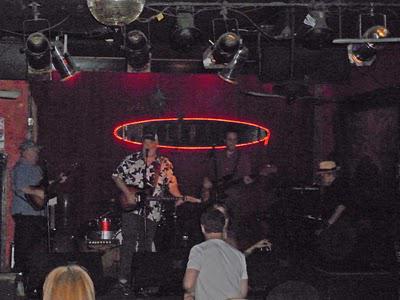 After the band came on about half an hour late (I think punctuality rates up there with toilet cleanliness in the list of Continental Club priorities) they settled into a great country sound. They called themselves Heybale and the average age would have been around 60, but each of them had probably been playing country music for an average of 55 years, and they matched the kids on The County Line for musical energy and were way out in front as a tight country band.
We ended up having a ball here in Austin, musically, even if the truth behind the scenes is that all the bands we had hoped to see here were out of town! We've looked up their itineraries and it seems that they all knew we were coming, because all our favourite singers and bands will be back here in Austin later on in October, but by then we'll either be in New Orleans or maybe even New York.
Next stop for us is Galveston, Texas, on the way over to Louisiana. We've been inland for the last few weeks and we want to see the coast, and the way the drive to Louisiana works out, Galveston Island is a reasonable half-way point. They have some great seafood in Galveston, and so I'm hoping to be able to post Tummy Time IV from there.