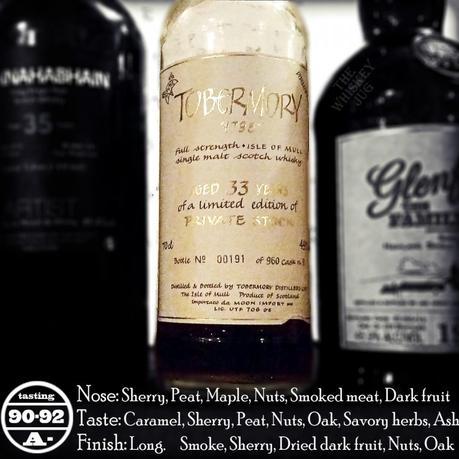 Typically when Tobermory releases a peated dram it comes out under their Ledaig label which made this Tobermory 33, a heavily peated and heavily sherried whisky, a major surprise when it was unveiled at a LAWS tasting. We tasted this along with a list of other amazing whiskies that night with everything being poured blind and the reveal not happening till after everything was tasted, rated and tallied as a group.
Blind tastings are always fun and one of my favorite things to do at tastings like this is to guess what it is you're tasting and we did exactly that this night. Before each reveal we threw out some guesses and on some of them, like the Glenfarclas and Kilchoman, people nailed the distillery. This Tobermory 33 however threw everyone for a loop because of the peat. Truly a unique and interesting dram from the Tobermory Distillery that isn't carrying the Ledaig name.
Tobermory 33 Years Info
Region: Islands (Mull), Scotland
Distiller: Tobermory
Mashbill: 100% Malted Barley
Cask: First Fill Sherry
Age: 33 Years
ABV: 49%
Non-Chill Filtered | Natural Color
Cask: 9
Bottle: 191
Price: NA – Auctions / Specialty Shops
Tobermory 33 Years Review
EYE
Ruddy copper
NOSE
Thick chewy notes of sherry, peat, maple, nuts, smoked meat, dried dark fruit and ash. Light notes of baking spices, malty sweetness, citrus peels and cocoa make for a wonderful aroma.
PALATE
Woah, caramel springs up first but is quickly overtaken by sherry, peat, nuts, oak, savory herbs and ash. Light bits of malt, cocoa and spice swirl about in the burly storm crated by the dominant flavors.
FINISH
Long and smoky with heavy notes of sherry, dried dark fruit, nuts, oak and spice.
BALANCE, BODY & FEEL
Well balanced, full rich body and a heavy chewy feel.
OVERALL
Tobermory 33 is an awesome dram that sits heavy across the senses with layers of smoke, fruit driven sherry sweetness and complex spices. It's a dram that sits apart from all the other Tobermory / Ledaig I've ever had. If they could do this more often and get this heavily peated and heavily sherried combo put out at a decent age I could see it being a yearly release that'd be worthy of some hype.
However with the way the market is today, something that even mimicked this Tobermory 33 would probably be set at a price point that very few could afford. Which is sad, but that's the world we live in at the moment. An incredible demand for a relatively small amount of remarkable whisky.
SCORE: 90-92/100 (A-, not consumed at home)