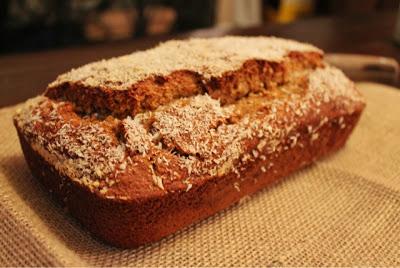 Banana bread with no butter or white sugar that is 115 calories a slice?Sign me up! I love banana bread so much. My old roommate ( what's up Kate Flynn!) made banana bread all the time when she lived with me. We would almost get gitty when bananas get brown so we could make banana bread. This
recipe
intrigued me because it was topped with toasted coconut, which I love! I know some people have aversions to coconut so if coconut isn't your thing simply omit! Maybe add some walnuts if you are feeling racy!
My mantra for healthy eating is always to make foods that you love that are unhealthy, healthier so you can eat them more often! I am not a fan of fat free cheese or any crap like that because frankly it doesn't taste like the real thing. It tastes like crap. I would rather have the real thing in moderation. Not so with this bread! It tastes like the real thing and you won't miss butter or white sugar. On the contrary to unhealthy white flour and butter this bread has whole wheat flour, Greek yogurt and egg whites!Check, check and check. Healthy eating awaits you!
 Toasted Coconut Banana Bread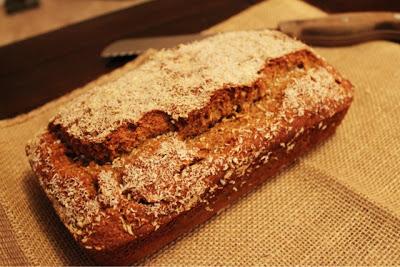 Serving size: 16
 Ingredients
1 ¾ cup whole wheat or all-purpose flour
1 teaspoon baking powder
1¼ teaspoon baking soda
3 Large ripe bananas, mashed
½ cup + 2 tablespoons sweetened flaked coconut
½ tablespoon olive oil
1 teaspoon vanilla
½ cup of brown sugar
3 egg whites
2 tablespoons skim milk
¼ cup fat free plain Greek yogurt
¼ cup orange juice
Directions
Preheat oven to 350 degrees.
 
Mix flour, baking powder, baking soda together in mixing bowl.

In separate large mixing bowl combine mashed bananas, brown sugar, and vanilla. Add egg whites and mix together until smooth. Next add oil. Then, slowly add in flour and combine until moist. Next add Greek yogurt and orange juice. (Depending on the consistency you can add two tablespoons of skim milk. If you like your bread more dense —omit the milk — but if you like it more airy or lighter you can add it.) Lastly add ½ cup of coconut and mix together.
Pour into greased 9×5 inch loaf pan. Sprinkle two tablespoons of coconut on top.
Bake for 50-60 minutes or until toothpick comes out clean and the bread is golden brown.