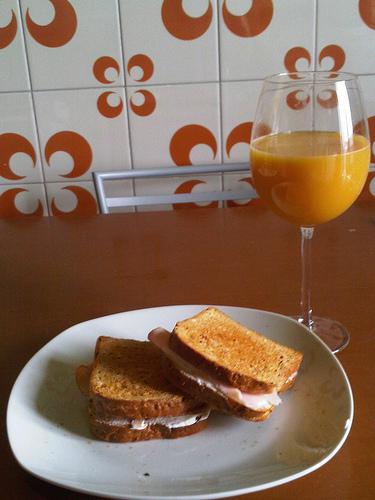 TODAY I PROPOSE YOU A SPECIAL BREAKFAST. I KNOW, FOR SOMEONE, IS VERY DIFFICULT HAVE A SALT BREAKFAST.
I THINK THAT MUST TRY ONCE.
THIS IS AN INCREDIBLE TOAST. IF YOU DON'T BELIEVE ME, EAT IT FOR LUCH.
THIS SNACK IS TOO SIMPLE…REALY!
EVERYONE KNOWS HOW ROASTED A TOST…SO…
YOU NEED THESE INGREDIENTS:
– PHILADELPHIA,
– TURKEY,
– WALNUTS.
THEN…SPREAD THE CHEESE, PUT SOFTLY THE TURKEY AND CRUMBLE THE WALNUTS INSIDE.
TAKE A ORANGE JUICE AND YOU ARE READY TO ENJOY! TRUST IN ME, TRY IT!
SEE YOU SOON! Fabusho!