The Zil 111, or if you read Russian, ЗИЛ-111. If you were a Politburo member or a very senior official in the KGB, you'd be pleased to see one, as it's probably your ride. As for the 99.99% of the rest of Soviet society, your feelings might have been more mixed about them, especially in the 1960s, when these big things were cruising the streets of Moscow. Not that you'd want to show those mixed feelings in any way, of course.
I don't really know that much about the Zils. This one was made from 1959-1963 and owes a lot of its style to large American cars (some say especially the Packard, but my uneducated eye can see some Chevy and Caddy in there, too), and it had a 6-litre V8 under the hood.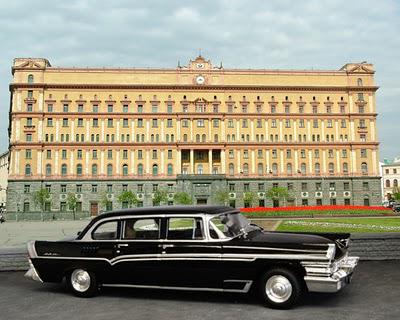 Here's a Zil 111 parked outside KGB Headquarters in Moscow. This model is a 1:43 mutha
bought on eBay from Poland, where it was made for the de Agostini company by a company in
China. It's an impressive thing, and right now it's easily the biggest car in my diecast cabinet.
Measured from bumper to bumper it's 139mm long, compared to the next longest car I have
there, a 1957 Cadillac Eldorado Biarritz, which is just 126mm long. I believe that a Mercedes
600 Pullman is longer than a Zil 111, but only just. I guess I'll get that longer German limo, too.
As well as this hardtop version, a convertible was made, and here it is in action in the kind of place where it was most at home, Red Square.
I couldn't help placing one of my Zil 111 dioramas somewhere a bit more subversive, so here it is parked outside the famous St Basil's Cathedral in Moscow. Perhaps someone with a guilty conscience was having a quiet word with the Patriarch. Who knows?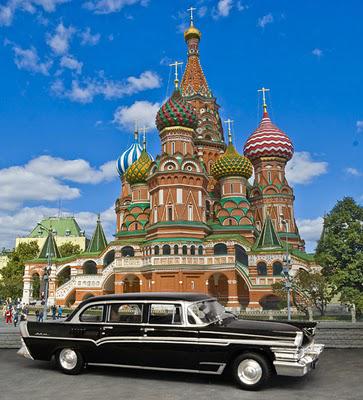 Handsome lump of black-painted steel and chrome extras, isn't it? I can see a couple
of extra limousines coming my way this year.What is it about long, black, sinister cars
that looks so appealing?