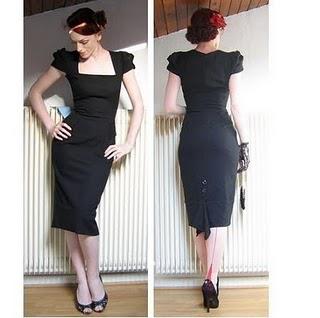 Fabulously forties - this is a truly unique dress that is retro chic at it's finest!  This is a gorgeous dress, puffy sleeve style with flaps at the waist and a fishtail at the back.  The fitted waist creates an hourglass silhouette and the fishtail back skirt detail is in keeping with the 1940's vibe.  Ours is custom made to fit your body, so you'll need to provide measurements for a custom fit.   Afterall, fit is crucial to the overall look of the skirt. The waist needs to be tight-fitting. The length needs to be proportional to your height. Fit the dress to your hips as well.
Look in the mirror to see if the tail or flare of the dress begins at the knee. If the skirt is worn properly, the wearer has a look similar to a mermaid.
Available at Get Go Retro!