The celebrity buzz for this past weekend is the engagement of Angelina Jolie, 36,   and Brad Pitt, 48. The ecstatic couple has made the announcement, not due to any pressure from their six children, but because it was the right time for them. In preparation for this long-awaited engagement, Brad took the initiative about a year ago to start the process of designing the perfect engagement ring for his lovely bride. Invoking the expertise of world renowned jewelry designer Robert Procop, Brad was able to establish a ring perfectly suited for Angelina's finger and hand.
The way this ring sets on her finger and aligns with the shape of her hand is impressive to say the least. A lot of careful thought and attention to such intricate details by Robert Procop and Brad Pitt exudes an amazing talent and skill unmatched by his peers. After spending time previously with Angelina on developing her own jewelry line called Style of Jolie, Robert Procop received the invitation – more or less in secret – from Brad Pitt to help in the design and construction of the most elegant emerald-cut engagement ring.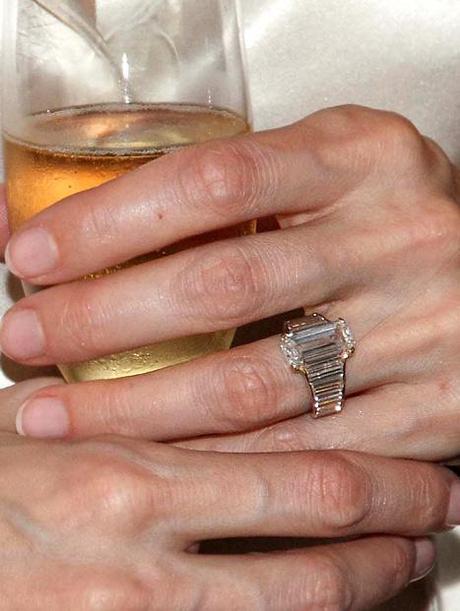 For this celebrated couple, the chance to shine once again in their personal lives has been an inspiration for many. Their six children are obviously excited for mom and dad and are sure to make the wedding one to remember with their anticipated selection of dresses and suits. Although a date has not been set, the world of jewelry and clothes fashions are going to have an eagle-eye focus on their every move and words.
It may be safe to say that this wedding could rival that of Kate Middleton and Prince William's Royal Wedding. In any case, the real celebration here is that this family of eight will have a day of excitement, love, friends and family gathering, and a world of fans and enthusiasts joining in creating a world-wide audience. Congratulations Angelina, Brad, and all of y0ur children; we wish you only the best in your amazing lives!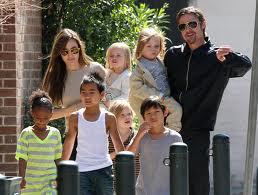 Family is what Brad Pitt and Angelina Jolie are all about!
James for Raymond Lee Jewelers, South Florida's choice for buying and selling diamonds and other luxury jewelry. Raymond Lee, your pre-owned watches resource.