TJ Maxx Introduces Online Shopping: Let the Bargain Hunt Begin
Just in time for the upcoming holiday season!
There are those rare occasions when something so utterly terrific crosses my path that it changes my whole outlook for the day. TJ Maxx has launched online shopping on its website. The angels on earth are now singing and rejoicing while my pockets are now twitching. Their online shopping secretly launched yesterday with some nice wardrobe pieces suited for fall. I've already browsed the website to see what discount goodies I could snatch up.
I often wondered why TJ Maxx or Marshalls didn't offer their savings online. I don't mind driving to the store locations to save money. However, saving gas and shopping in my pajamas is ok in my book. Sometimes a girl just doesn't feel like dealing with crowds. Here are a few items that caught my eye today.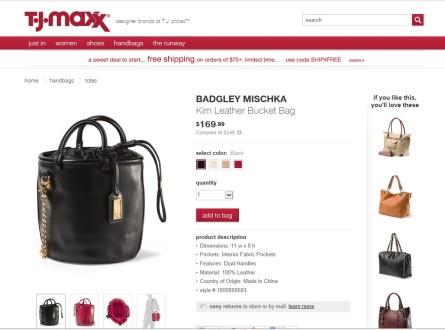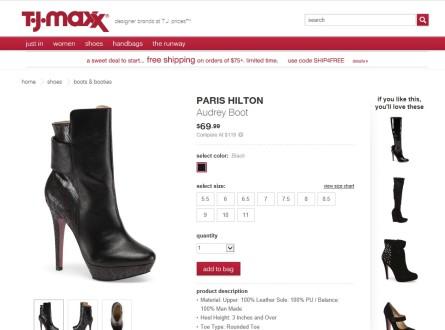 Shauntee + my feet in those boots = FIERCE! Who could ever resist a cute bucket bag? I love retailers that sale affordable, as well as, designer merchandise. Most people I know shop based on what their budget is at the time. I like knowing that I can shop cheap or splurge on the same website.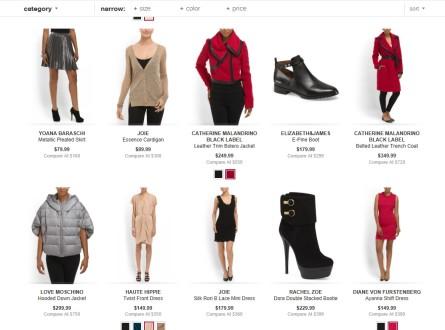 Shopping at T.J Maxx is always hit or miss. I can go in and find a ton of stuff or I can go in and find absolutely nothing. I am hoping that shopping online brings about a lot of fabulous goodies that maybe otherwise hard to find in the stores. I'm sure that the website is still in the tweaking stages but I hope they add more to the website for us full figured beauties. TJ Maxx gets two manicured thumbs up for this move.
What do you think? Will you shop TJ Maxx online?
It's Friday! Kick your heels up! Have a wonderful weekend
All images courtesy of TJ Maxx.com