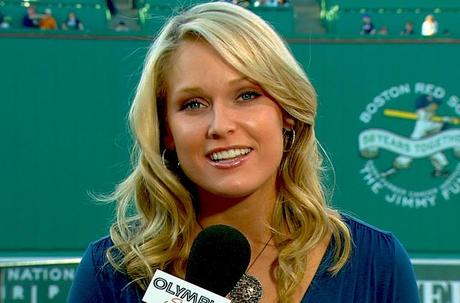 First, the Sox and Terry Francona parted company. Then with Theo Epstein. And then Jonathan Papelbon left.
And now, it's Heidi Watney taking's off from Boston. She's heading back to California to be the Los Angeles Lakers sideline reporter. (She does know that the NBA is still locked out, right?)
Will the bloodletting from last September ever stop? Now I'm really depressed. I'd love to see the lovely and talented Tina Cervasio return to Fenway.
Anyway, the Red Sox managerial search took a strange turn last night, as the Cubs offered Dale Sveum their managerial position. It looked like the Sox were going settle on Sveum, who so far has been the only candidate interviewed twice.
Interesting to see the Cubs beat the Red Sox to the punch on Sveum. You don't suppose this is Theo Epstein trying to stick it to Larry Lucchino, do you?
Three candidates still remain: Torey Lovullo, Sandy Alomar Jr. and Gene Lamont. Pete Mackanin was recently eliminated from consideration. Lovullo would seem to be the odds-on favorite now, but I wouldn't be surprised to see the search go on a little while longer.