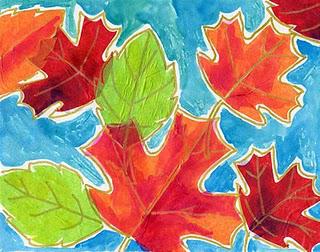 These are cut out tissue paper leaves outlined with a gold marker, and enhanced with just a bit of watercolor paint. Can you tell I just can't get enough of fall art projects?


1. I used my "How to Draw a Maple Leaf" post to create a paper template, and traced it on the tissue paper (mine was an American Greetings® brand from the drug store). I found it helped to cut out several layers at a time. I cut out various sizes and other simple shapes of leaves to make my collage more interesting.
2. Using a glue stick, I covered large sections of white card stock paper, and layered the leaves on top. I used a purple glue stick and found that any extra glue did dry clear and smooth so don't worry about using too much glue.
3. I took a gold Sharpie Poster Paint marker and traced around each leaf, and added some veins inside as well. Loose tracing is OK as it adds a casual look to the art.
4. My new favorite watercolor paint is Crayola's Watercolor Mixing Set. It has a very pretty cyan and magenta color, along with a darker navy. I used a generous amount of cyan paint to fill in the background, and then just a small, watery amount to add more color inside the leaves.