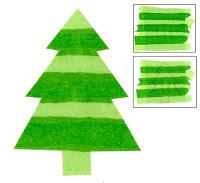 I've seen some really beautiful decorations made from just clear contact paper and tissue paper.
1. Cut two matching rectangles of clear contact paper.
2. Peel the backing off one piece of contact paper. Place it on the table with the sticky side up. Tear strips of colored tissue paper and lay across the contact paper, overlapping edges. NOTE: The tissue paper has a grain to it. Try tearing in both directions to see which one is easier. When the contact paper has filled up with tissue strips, peel the backing of the remaining rectangle and place on the strips so as to make a tissue paper sandwich.
3. Find or create a tree shape that you can use as a template. Trace onto the tissue collage and cut out. Use on a holiday card or punch hole in top and make a row of trees hanging from a string.