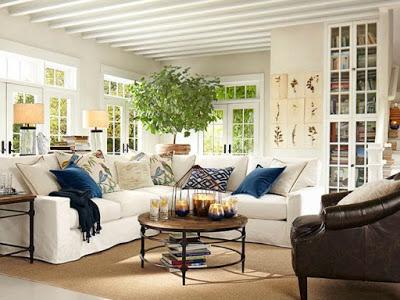 After building or moving into a new house comes the part where you need to decorate the place using modern and stylish furnishings. While furnishing a house with decorative items and furniture, most people tend to focus on the conspicuous areas of the rooms. However, it is equally important to utilise the unused corner spaces too. Thus, instead of keeping those places empty, you can follow the undermentioned ideas to furnish and make the best use of them: 
1. Keep a pair of high back chairs – Many people prefers to use high back chairs but can't use due to the obstructive height of it. But if you take the advantage of the corners of your room, you can place a pair of high back chairs in those places. Moreover, you may also establish a perfect and cozy atmosphere by placing a small table in between the chairs.  
2. Build a message corner – A message board is perfect for controlling or keeping track of one's busy schedule. Therefore, install a message board where you can write all your to-do-things in a corner and stick your notes with the help of a pin. Place a drawer below the board, as it can help you to keep all your important necessities such as rubber bands, scissors, loose change, tape, etc. viably. 
3. A corner cabinet – Many people opt for corner cabinets in order to make the best use of the corner space in their rooms. And a corner cabinet is always best suited for any place, be it a dining area, bedroom or study room. There are many furniture shops in Berkshire where you can find a wide range of corner cabinets. However, it is always suggested to consult with reputed furniture makers and discuss your requirements & available space before buying one.
4. Set up an indoor game table – An indoor game table at the corner of your cozy room can be a great way to entertain guests. Pair the table with chairs or banquette and get ready to have an amazing time with your dear ones. 
5. Get an eye-catching corner window – Add a different look to your room by opting for a corner window. If your room has a beautiful view, then never miss the opportunity to show it off with some framed or unframed corner glass windows. But you'll have to consult a lot with a builder or architect before doing so.
So what are you waiting for? Instead of leaving the corner space of your room dull and vacant, use any of the aforementioned tips to add something interesting now.