Bunk beds are all about space saving that maximize the slot usage of the abode. While space stays the major cause of concern for country folks, creating vertical units can be optimal. Apart from creating space efficiency in the kids room, bunk beds have multifold advantages. These can not only be deployed in the kids room but also are great companions for guests rooms. Even your bedroom will be complemented by these if you do not adore standard bedrooms.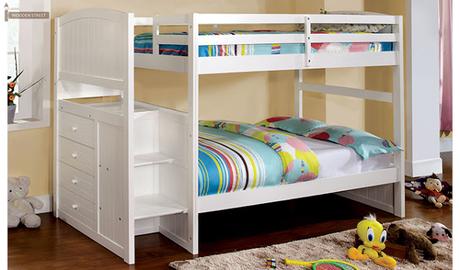 Selecting one
multi-purpose bunk bed
will make you utilise your full floor space in your area, but selecting the right piece of furniture will add elegance to your abode. Some
beds are also available with storage
; this storage can be a space for toys or extra bedding. This can help you make your area clutter-free.
You need to know that there exists no "one solution for all" in the case of bunk beds. You need to study your abode properly so that you can incorporate a proper bunk bed in your area. A smarter way is opting for wooden beds that can customised to accurately fit into your area and mix in with the decor as well.
These furniture units are not just getting common with the households, many of the resorts and luxury retreat are deploying these. The reason behind is they do not just create a monotonous, mundane environment, if accessorised properly, they can create a delighted look.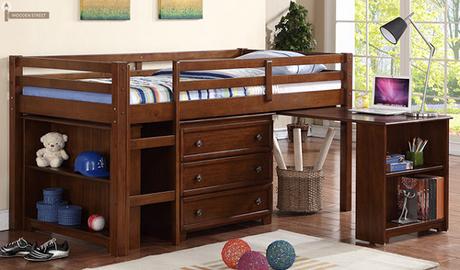 The bunk bed with storage are quite common, but the ones with external stairs are the favorite among kids. You can even use a product that has attached study tables and closets.
These even provide you an ample of space for implementing your creativity. Who said bunk beds are just sleeping units? You can use these in additional rooms to escape from the same monotonous schedule. If you deploy these beds for your kids or your guests, either way, this will put a wide smile on their faces.
If you are placing these in the kids room, have proper consideration on a few points as there are an increased number of injuries caused by improper placement of these. Here are certain things you should be quite careful about-
Never leave kids below the age of 6 unattended in these beds.
Do not place bunk beds near windows.
Make sure that there remains enough space for your kid to sit on the upper surface without bumping head.
Always use sturdy ladders in the bunk beds and ensure that they remain clutter-free.
The rails on the top surface of the bunk bed should be at least 5 inches above the mattress.
Never position the bunk bed near the ceiling fans or light sources as they can be the cause of major accidents.
Make sure that the mattress used is of the proper size as the smaller one will create discomfort and the comparatively larger one will create the illusion of more space. This may cause frequent falls from bed.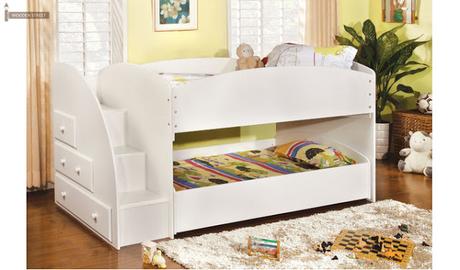 The bunk beds are excellent units for your home. But, considering a few points will make it even more attractive and safe for you and your kids.
Have a nice decorating time!