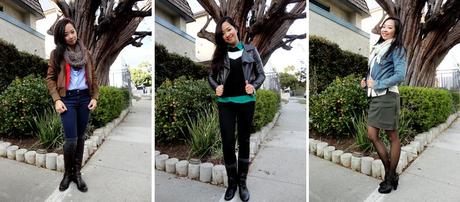 Did ya know that I started writing as a Fashion Columnist for the clothing line So Worth Loving? It's a clothing line with a wonderful  message – that each one of us are worthy of love and we ought to embrace that and empower our futures. Can you see now why I am so proud to be a part of that team?
This month my article is on the art of layering. As the weather gets colder, we gotta pile on more clothing if we want to keep warm outside. I styled the three looks above in the article. If you want to get a few tips on how to do this without losing your shape or looking frumpy, read it here!
Hope you all had a wonderful Thanksgiving. Everything in my life is a blessing. And I'm thankful for each one of you who read this blog and support me with kind words. What are you thankful for?