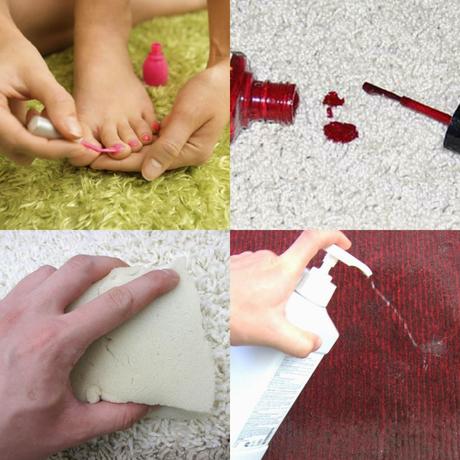 What if you are busy with layering your nails with colorful nail polish and the bottle gets turned down? Without your knowledge of concern your shiny glittery enamel falls on the surface of your carpet! It will be an awful experience for you then, right? The first thing you would start doing is to clean the enamel of your carpet as soon as possible. 
This is a pretty common occurrence that takes place in a room of a woman or in a saloon.  Most of us do not have the clear idea how to clean the carpet and get rid of the mark as soon as possible with anything that we have in front of us. Here are some tips that will help you to get a clear idea for cleaning the carpet.
You need to act fast. As soon as you notice the stain, you need to start acting on it. The more you will take time the more will it seep through the fibers of your carpet.
Generally when people see a stain of nail polish on carpet, out of anxiety they start rubbing the surface with a paper towel. This technique actually makes the stain spread further and broadens the mark. You need to use a paper towel and start working on the edges and go to the center. It is called blotting techniques.
If the stain is very small and light color, you can use non-acetone nail polish removers. If you have dark color rugs then use alcohol. But before apply cleaning solutions scrape out the excess amount of enamel which is still on the surface.
Make sure that you do not use some solution that can affect the die or the texture of the carpet. However, if you have done so and have damaged the carpet more than it should have been, then opt for invisible mending in Perth.