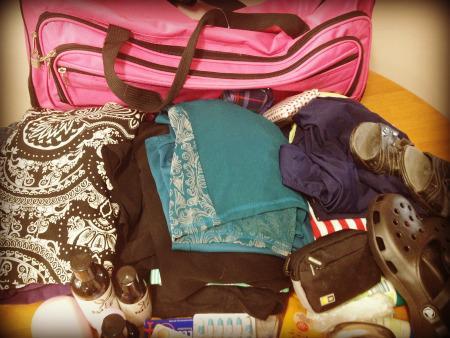 Hey, I'm not meaning to rub it in or anything

but did you know that I'm off on a short break this weekend? With the girls? And no kids? And that it means 3 nights of fun AND uninterrupted sleep? Ahh-ha, yess'm. I am leaving on this adventure tomorrow. One last sleep to go.
I've been packed for days though (yes, that's the excitement bursting through) and as I was collecting my things, I actually thought about the process I undertake when planning and packing for a short break. In a way, packing for a longer trip may even be a little easier, as often access to laundry facilities means that you can get a bit more mileage from what you've shoved in the bag. Going away for a couple of days with limits imposed on what you can carry on-board necessitates some thinking and planning.
These bag-packing pointers may come in handy when you are escaping for a few short days away …
I start with what I'm planning to wear for leaving/travelling – I try and make it something versatile (like jeans) that could possibly get another wearing if need be
underwear comes next (this tip comes to you the hard way, after one weekend away with only what I was wearing. Unpleasant does not even begin to describe the memory.) – count the number of days away plus a couple of spares – this shall get you through!
I then select clothes for 'days' and 'nights' – it's a good idea to ensure all the separates co-ordinate, so you're not locked into any specific outfit – it's built in flexibility!
I've selected black as a base color theme – I only then need a pair of black casual shoes for day and some dressier black sandals for evening. Easy! A black drapey jacket can go over everything if the weather cools and as a bonus it's lightweight and easy to pack.
Keep jewellery and accessories to a minimum – I'm sticking to the accessories I wear on a daily basis and maybe another pair of earrings thrown in  - besides I won't need to be blinged-up to enjoy a deckchair by the pool

PJs – comfiest that you have
toiletries – don't forget sunscreen, panadol etc in case of a hangover headache and travel sickness tablets just in case
camera with battery fully charged!
Once my bag is packed, I make sure that I attach a big clear note with a list of things that need to be included at the last minute: make-up bag, phone, iPad, iCharger, sunglasses, TICKET etc. I've realised that putting it with the packed bag means I can't race off without checking the list and adding those last minute essentials. Oh, most importantly of course, remember to pack your sense of fun and ENJOY! (I know that I will!)
Do you have a holiday packing tale of woe (like my undie-less weekend from hell)? What did you forget? Has it changed the way you organize yourself now for a trip?
Playing Friday linkup with 2 fabulous blogs